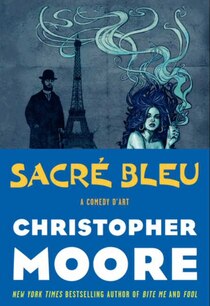 I
n his latest masterpiece, Sacré Bleu, the immortal Moore
takes on the Great French Masters. A magnificent
"Comedy d'Art" from the author of Lamb, Fool, and Bite
Me, Moore's Sacré Bleu is part mystery, part history (sort of),
part love story, and wholly hilarious as it follows a young
baker-painter as he joins the dapper Henri Toulouse-Lautrec
on a quest to unravel the mystery behind the supposed
"suicide" of Vincent van Gogh.
I really wanted to love this book. It's not that I hated it, I just didn't
get
it. And I kind of didn't
care
about the story. It's probably fair to argue that I should have skipped this book seeing how a subject like impressionist art movements doesn't interest me in the least.
So my review is biased and has nothing to do with Christopher Moore as a writer because come on, I
adore
him.
At some point while I was reading this book, Mr. Moore tweeted a "
Chapter Guide
" to Sacr
é
Bleu. I knew then I was in way over my head. I already did not really understand what was going on, which character was which and how an entire book could be written on some Colorman dude. (There were also approximately 200 too many penis jokes). But that's just how brilliant of a writer Mr. Moore is! He can write an entire book on the colour blue, a Colorman, a muse and the solving of Van Gogh's supposed suicide. And most people are probably going to love it. Unfortunately, sometimes this kind of wit and humour are lost on me. But that's life and the life of a reader - not every book is going to be for me, and I'm ok with that.
What I did love about this book was the all the physical awesomeness of it. If you read this on a kobo/kindle, then you totally missed out. Not only does Sacr
é
Bleu have the most gorgeous cover I think I have ever seen, but it's full of coloured art work, and the print is a beautiful, very easy on the eyes to read, indigo shade. There is so much texture to this book and it just reinforced my love for physical books.