February Book Club Pick: A Sorta Review
Confession: I am not a book snob (at least I don't think I am). And I have never intentionally turned my nose up at a particular genre of book, but I do naturally migrate towards general fiction when choosing books to read. This is one of the reasons why I love being in a book club so much; often I am forced to read books out of my comfort zone. There are a bazillion books out there I'd love to read! My reading wish-list is always growing, so sometimes book club or book challenges are awesome for pushing you to read a particular book.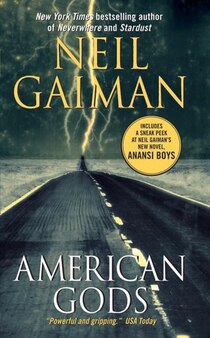 So when I saw that
American Gods
was February's book club pick, I was really excited!
I felt like I was "missing out" by having not read anything by Neil Gaiman before but I was also worried at first that I just wouldn't
get
this book. I think one of the reasons I've been partial to reading anything of the fantasy genre is because I was worried I wouldn't be able to understand what was going on.
Which is another reason why I like book club – you can talk about and dissect the story and get other people's take on the book.
That being said, I've been avoiding writing this blog post. I'll admit I didn't love American Gods. When I would pick it up to read, I enjoyed the story, but I didn't find myself anxiously wanting to get back to the book during the times I wasn't reading. And I'm still not exactly sure what this book was about. And unfortunately, only 3 of us in my book club finished the book, so needless to say, discussion about it was at a minimum.
But if I take away one thing from this book it is this: we may forget about Gods, but that doesn't mean they cease to exist. We just stop noticing their symbols, their presence. And new Gods are constantly forming, like the God of Technology. But the old Gods don't want to be forgotten. And so a storm begins...
I would love to hear your thoughts on what you thought about this book, what you thought it was about, and what you took away from it.
Enlighten me book-worms with your literary wisdom!
"What I say is, a town isn't a town without a bookstore. It may call itself a town, but unless it's got a bookstore it knows it's not fooling a soul."