2012 is stacking up to be a year of many firsts for me in regards to book reading. I took my first
50 book pledge
; I started my first blog; I read my first
Fantasy
novel; and now, my first Mystery. Ok, so the only other mystery I've ever read (twice) is Agatha Christie's, And Then There Were None. But that was
years
ago.
Several weeks ago I won a copy of
The Savvy Reader's
50 book pledge group read,
The Ice Princess
. My very first ever book win. It's very exciting to win free books! Although, I'll admit, I was hesitant to read this one as I'm not a big fan of scary or overly suspenseful novels. But I decided to dive in, worried that if I didn't, this book would get lost in my never-ending to be read pile.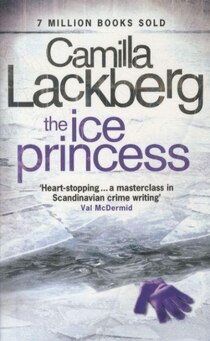 Like I mentioned earlier, I'm not a well-read mystery novel reader. I haven't even read Stieg Larrson's, The Millennium Trilogy, so I cannot compare this book to anything else; all I can do is tell you what I thought about it.
The Ice Princess, reading more like what I imagine a crime novel would read like, is centered on solving the murder of a young woman named Alex, who at first appears to have taken her own life. Erica, Alex's childhood friend, is a writer and happens to be the second person to see Alex's dead body. She is quickly invested in trying to solve this mystery, being somewhat driven by now wanting to write a book about Alex's life and death. The police detective on the case is Patrik Hedstrom, a man that used to have a huge crush on Erica in their younger years. These two quickly form a romance and work together to help solve this crime.
The Ice Princess promises to be "heart-stopping...a masterclass in Scandinavian crime writing"; "Expert at mixing scenes of domestic cosiness with blood-curdling horror". My heart neither stopped, nor did I ever feel a sense of blood-curdling horror. I was actually quite disappointed. I was ready to be scared, to have my heart beat fast, and to not be able to read this book right before bed. So needless to say, I feel a little let down.
In no particular order, here are some things I didn't like about this book:
1. Throughout the book, Patrik and Erica come across clues, but we, the reader, is left in the dark. We are not given access to these clues. We do not find out what the clue was until after the character has deciphered the clue themselves. This is sooooo annoying. I want to try and figure out the mystery too! Was this done intentionally, so readers had no choice but to keep reading until the end in order to find out who the murderer was?
2. Erica's younger sister, Anna, is married to a controlling, abusive man. While Anna finally comes to Erica for help, there is no actual resolution to Anna's situation. I actually found the scenes between Anna and her husband to be the most disturbing, so even though Anna finally reaches out to Erica for help, there are a lot of loose strings left untied which I also found frustrating. I need to know that Anna is going to be okay! (Now maybe the second novel in this series will have some resolutions, but I'm not sure if I will read it to find out...)
3. "She placed her mittens on a park bench and then sat down on them as protection under her seat. Urinary tract infections were nothing to play around with; that was the last thing she needed right now." WHAT? I think I re-read this sentence ten times, unable to believe it had actually made it into print. As a nurse, I have never ever heard about anyone contracting a UTI by sitting on a cold bench. Do people in Sweden actually think you can contract a UTI from the cold??
4. Erica, and I'll give her this, has the brains to call back the last number on the phone at Alex's house. This is definitely something the police should have thought of doing.
5. At the beginning of the book, it is an old man by the name of Eilert Berg who initially finds Alex's body. He had been hired by Alex to check in on her place once a week as she only came to this home on most weekends. We hear almost nothing more of Eilert until the end of the book, where his wife is introduced to us and we learn of what Eilert chooses to do with the rest of his retirement. I'm not sure why this was important seeing as Eilert was not a recurring character in the book. Introducing a new character (his wife) in the last 30 pages seemed unnecessary. I would have preferred that the author used the space to tie up other loose ends in the story.
Was I able to solve the murder before the end of the book? No. Would I have been able to, had the author disclosed the clues as the characters uncovered them? Well, I would have at least had fun trying.
There's a part of me that really wants to read the next book in this series, just to see if some of the unresolved issues do get resolved. And like with many authors, sometimes their writing improves with time. But my TBR pile is too high at this point to trudge on. I think I'll read the Hunger Games next!