When I saw that April's book club pick was From Away, by Michelle Ferguson, and that not only was she a Canadian author, but a LOCAL Canadian author, I got really excited! I love to read, and thereby, support Canadian authors. Then I found out that Michelle was going to be attending my book club meeting! Needless to say, I was very disappointed when I wasn't able to actually make the meeting - I know I missed out on an evening of great conversation! I reached out to Michelle via twitter (@fromawayauthor) and asked her if she would be interested in doing a Q & A for the blog. Not only did she agree, but she has also provided me with a book for a give-away!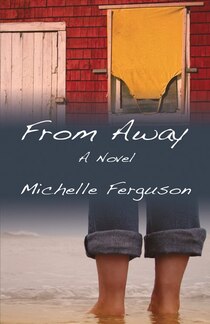 Ferguson's first novel, From Away, takes us to the cozy, picturesque, East coast that is Nova Scotia. Nova Scotia is one of my favourite places in Canada (and I'm not just saying that because my husband is from there!). It's a place full of charm, especially in the smaller towns, where you feel like time is standing still. No one is in a hurry, people are too-friendly at times, and the lobster is like none-other.
In From Away, we are whisked into the close-knit community of Lupin's Point, where 28 year old Marion has chosen to spend her summer at her uncle's abandoned summer home. Here she plans to take time to reflect on her life and figure out the age-old question: where should she go from here? But peace and quiet are far from what Marion encounters. Instead, Marion meets busy-body Alice Lupin, who befriends Marion instantly, while also making it her mission to "figure out" Marion's true intentions; Schooner, who tries to shoot Marion when he thinks she's a lobster thief; 'Crazy' Hal, who maybe isn't so crazy after all, and then of course there's Donny, the handsome, well-mannered man Marion insists on being "just friends" with.
Marion soon finds out that you can't really mind your own business in Lupin's Point; your business is everyone's business. And it doesn't take long for Marion to become just as interested in the people of Lupin's Point as they are in her. But will they ever fully accept her as one of them? Can Marion break through her label of being "from away", even though her own father is from Nova Scotia? And lastly, will Marion allow herself to find love?
While the characters are quirky and can be exasperating at times, you can't help but feel like you've known them forever and you don't want to say good-bye when the book ends. I found myself easily relating to Marion - as I'm sure others will be too – because at some point, we all have to make choices from the heart.
Whether you've been to Nova Scotia before or not, this book definitely makes you want to go there. The smell of the ocean is prominent throughout the novel and the laid-back lifestyle and closeness of a community, such as Lupin's Point, is something to be desired. From Away perfectly captures the charm and intimacy found in sleepy cove-communities of Nova Scotia. This book is best enjoyed curled up on the couch with a hot cup of tea!
Your bio describes you as a prosecutor by day, writer by night. When did you know you wanted to be a writer?




I knew I wanted to be a writer from the time I was in elementary school. Or maybe a better way of phrasing that is that I have always been a writer. I used to write stories to share with the class, to share with my family or just simply to write. I used to think that my classmates loved my stories because they would often ask for mine to be read aloud ... but I've since realized it was more likely that the class wanted them because they were so long and killed time until recess!




How long did it take you to write your first novel, From Away?




Now that is a long story! At the time I started writing the book I had three children ages 1, 3 and 4. So I negotiated some time with my husband - 4 hours a week. On that day I would sneak off to the local coffee shop, open my computer and write like mad! With that concentrated time devoted only to this story I completed the first draft in about four months.




That was the easy part. The next step was "Now what?" I had some friends and family read it and the response was really positive so I was all set to get published. Word of advice - publishers are not interested in poorly edited and poorly formatted manuscripts!




In the intervening time I had my twins so I had five children ages 0 - 6 and so everything just kind of stalled. It wasn't until I awoke from that breastfeeding fog when the twins were around two that I decided to dust the computer off and get moving again. It was then that I found my editor, Roberta Laurie and everything changed.




I think editing pushes you to a higher level of writing - makes you rethink whether that particular word is necessary - it was invaluable. Perhaps I should have hired an editor for this answer!

So the short answer is about four months for the first draft, a long break, about 6-7 months of editing (I was down to 3 hours a week after the twins) and then I was so very fortunate to find a publisher willing to take a chance on me!




Where did the characters in From Away come from? How much of yourself and the people you know manifest into your characters?




Characters are funny. Some of them start with a glance at someone on the street. Some of them start as part of someone you know or barely know. I like to describe them as "seeds". As the story progresses the characters come into their own.




An example of this is Alice Lupin (one of my favourite characters!). Alice started off in my mind as my grandmother who lived her life in Cape Breton and Pictou. As the story progressed Alice Lupin was born and grew into her own. I had started off thinking I would temporarily call her Alice and then change it when the story was done. The problem was - Alice was Alice and there was no changing that!




From Away is set in Lupin's Point, Nova Scotia. Is this a real place? If not, where did the inspiration for Lupin's Point come from?




Lupin's Point is a fictional cove set on the South Shore of Nova Scotia. It could be any one of the little coves that dot that coastline. But growing up I spent a lot of time in Boutilier's Point, Nova Scotia at my father's place so there are certainly features that were inspired by my time there.




When I imagined Lupin's Point I started off imagining Boutilier's Point. I then stripped away all of the houses and all of the people and started building my cove house by house.




The name "Lupin's Point" was inspired from the Lupin flower that grows in every field and ditch along the South Shore.




A little tourist tip if you happen to be going along the South Shore - the picture of the red shed on the cover was actually taken somewhere along the South Shore about 30 years ago! It would be fun to have someone find the same shed and take some new photos!




Was it hard to say good-bye to the characters of Lupin's Point, in From Away? Do you foresee writing a sequel in the future?




The wonderful thing about writing a book is that I don't feel like I have to say good-bye. It feels like I have this wonderful place, this wonderful rich place full of old friends who are just living life now and going about their doings.




One woman from a book club I visited said that she feel like there is a curtain between her and Lupin's Point and she can just peel back that curtain and find out what everyone is up to. That is an amazing feeling - to have created a place where readers can simply disappear to.




What do you hope your readers gain or feel when reading your book?




My dream is to have people feel as though they are standing on the shores of Lupin's Point and can feel the salt water on their faces. I want them to have the urge to sit down and have a cup of tea. I would love to think I made someone laugh out loud. I would love people to reflect on the importance of community and maybe smile at their neighbour the next day... most of all, I'd love for people to feel like they had just returned from a different place when they put the book down.




As a mother of five, prosecutor by day and writer by night, how do you keep a healthy work/life balance?




My children are number one always and I think that keeps me focused on what is really important. You can mess up a lot of things in your life and there will be minimal fallout. But if you mess up or miss out on your children there is no going back and no do-overs.




I try to keep my writing in that block of 3 hours but there are times when I lose that 3 hours if the kids need something or if their week of activities overtakes us. I work at 70% which works out to three long days but again, because I have to concentrate my time I tend to waste very little. There are times when my work as a prosecutor leaks into the other days but I am very fortunate that I seem to be able to keep that to a minimum as well.




I know that I am busy all of the time - especially after the publication. The amount of work to promote and market is incredible. I am usually up by 5:30 and not in bed until 11:30, but it works for now!




I sure hope I am balancing well ... I guess someone will have to ask my kids!




What authors/books do you love to read?




That is such a tough question! There are so many books that I have fallen in love with. I generally read fiction - I don't read romances (although I did as a teen). I don't like horror (although I did as a teen). I'll pick up pretty much anything and give it a try.




Some of my recent favourites would be Good To a Fault by Marina Endicott, Room by Emma Donoghue, The Book Thief by Markus Zusak and The Thirteenth Tale.




Are you currently working on a second book?




Yes! While not a sequel to From Away it is set on the South Shore on an island just off the coast of Lupin's Point. And true to Nova Scotia where people are interconnected through family and friends, you may even see a couple of the characters show up on Potato Island.
Giveaway!
Michelle has kindly provided me with a book for this giveaway, and because she is local to me, the winner will have the option of having the book autographed to them personally, if they would like! To enter this giveaway, simply leave me a (meaningful) comment on this post. For extra entries, leave separate comments stating you:
Followed me on Twitter @briebinicki

Tweeted about this giveaway
This Giveaway is international and closes on May 13, 2012 and a winner will be randomly selected and announced on May 14, 2012.
Thank you to everyone who entered this giveaway! This giveaway is now closed. A winner will be announced tomorrow evening.