Harry Potter and the Prisoner of Azkaban Part I
Well helloooo, Prisoner of Azkaban! I mean, everyone made it pretty clear in their posts last week that they couldn't wait to move on to PoA, and I just kinda nodded my head in agreement because you guys know best, BUT NOW, now I see why. This book is picking up THE PACE and things are getting scary-serious. Grims, Sirius Black, The Dementors...JKR isn't messing around. I think I would have been a teeeeeny bit scared to have read this as a kid.
Of course, this book starts out like the first two books did (and which I'm sure all the rest will), with Harry home with the horrible Dursley's for the summer. And while there is some "recap" work done to catch up those who choose to jump into a series the third book in (SERIOUSLY, WHO ARE YOU PEOPLE?!), it's definitely bearable. But Harry got the hell outta dodge after he lost his cool and inflated his Aunt Marge ala Violet Beauregarde style.
Ok, enough of this paragraph business - let's switch over to bullet points for the rest of my random thoughts thus far in PoA. There's just too much to talk about and I am sort of on vacation right now so time is of the essence!
~"
Black's not going to be caught by a thirteen-year-old wizard
." (p.50) Ha! We'll see about that!
~"
It was common knowledge that Snape wanted the Defence Against the Dark Arts job...
" (p. 72) Why can't Snape be the professor for this class??
~Hermione is acting really weird. What's she up to? (Don't answer that!)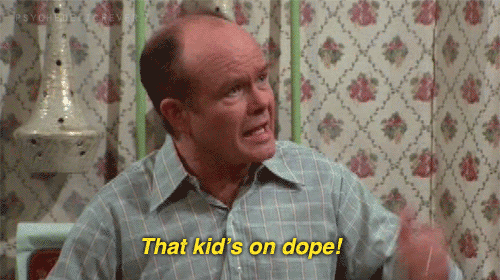 ~I kinda love Lupin. He's so calm and approachable. But why did he ride the train to Hogwart's? And why are his robes so old and shabby? You'd think the school would have a budget for robes for the professors. Or at least some "loaners". AND why is he the only one that seems to get "ill" at Hogwart's?
~I'm pretty sure Snape's "get better" potion he's making for Lupin isn't actually going to make him "better". I just don't trust Snape. AT ALL.
Nope, don't trust him.
~While Harry has only used The Marauder's Map to get himself to Hogsmeade so far, I'm sure this map will prove to be far more useful later on in the book.
~If Serius Black really did send Harry his new broom, how did it get delivered to Harry's bed? How do ANY of the Christmas presents get to the foot of the student's beds??
~Is Crookshanks really
just
a cat?? Something about him seems suspicious...