Last night, Jim and I finally got to cross off one of the last bands on our list of "bands to see perform live before we die". Ok, this list doesn't
really
exist, at least not on paper, but we both agree that after last night, our concert needs feels complete. We've come full circle, people. Well, at least until we discover some new, amazing band. We've seen
a lot
of shows and have spent more money on concert tickets than I care to think about, but we have some amazing memories of going to concerts together (Mumford & Sons in Seattle, Rise Against in Montreal, Collective Soul in Vancouver, to name a few), along with a shoebox full of ticket stubs for scrapbooks that will never get made, and a bin full of concert t-shirts that will never be worn. Have we outgrown our concert-going days? Not entirely. Small venues with assigned seating still appeal to us, and we talk about sharing our love for live music with Sully once he's old enough to tag along. But, for now, my thirst for concerts has been quenched.
So, I leave you with my random thoughts and observations from last nights Godsmack concert: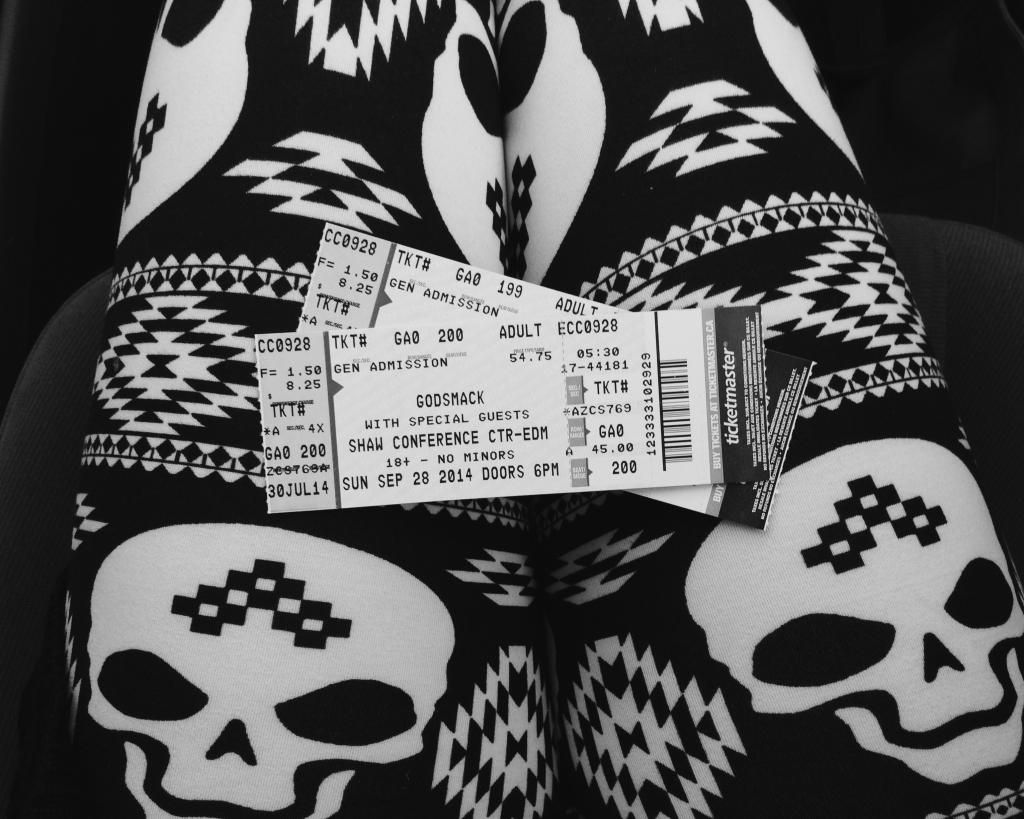 1. I am way too old to stand for 4 hours at a concert. By the end of the night, by lower back, knees and feet were
killing
me. Assigned seating is so underrated.
2. Concerts at large venues never start on time. Never.
3. No matter how thorough the security checks are at concerts (and they were thorough last night!), people will always find a way to sneak in drugs.
4. It makes absolutely no sense to me that the only area for "fresh air" is for the smokers.
5. General admission concerts for short people kind of sucks. My view for the most part was fist pumps and devil horns.
6. Speaking of fist pumps and devil horns, it doesn't matter how many concerts I go to, I will never feel comfortable pumping my fist in the air. I feel like a complete tool when I do it.
7. Let's talk about the concert shirt for a minute. In my mind, I picture myself rocking my shirt with a pair of cool jeans months after the concert, but this never happens. The shirt never fits right once I get it home. Which is why I have a bin of them stored in the spare bedroom closet. Yet, I can't stop buying them. Maybe I'll have them all made into a quilt one day.
8. I used to make fun of Jim for wearing his
high-fidelity ear plugs
to concerts. He makes me wear them too now and I can't believe how many concerts I've been to in the past where I didn't protect my ears. The high-fidelity ones lower the decibel but maintain the sound quality. In fact, I would argue that the sound is better when we wear our ear plugs. The music was so loud last night (and I'm not just saying that because I'm old - it was really loud!), that my whole body was vibrating and I still had a slight ringing in my ears when I got home despite the use of these ear plugs. You guys, save your hearing and invest in a pair if you go to a lot of concerts. They're super cheap too!
9. How many people do you think call in sick the day after a concert? Judging by the liquor lines at the concert last night, I'm thinking way too many.
Do you enjoy live music? What's your most memorable concert experience? Mumford & Sons at a small venue in Seattle tops my list!