Dear Sullivan,
One day, when you're hopefully reading these love letters to you, you may notice and wonder why they've been written and posted so inconsistently. I'm not really sure why I put off writing these letters. I take notes on my phone so as not to forget anything important (it's all important!) and the pictures are already taken. Maybe I don't like confronting the fact that you are growing up much more quickly than I would prefer. Maybe it's because in some weird way, I feel like writing these letters admits that time is passing at such a quick speed that it scares me. Either way, I love you more than I could ever convey in these letters, and I hope that's the one thing you will take away from this.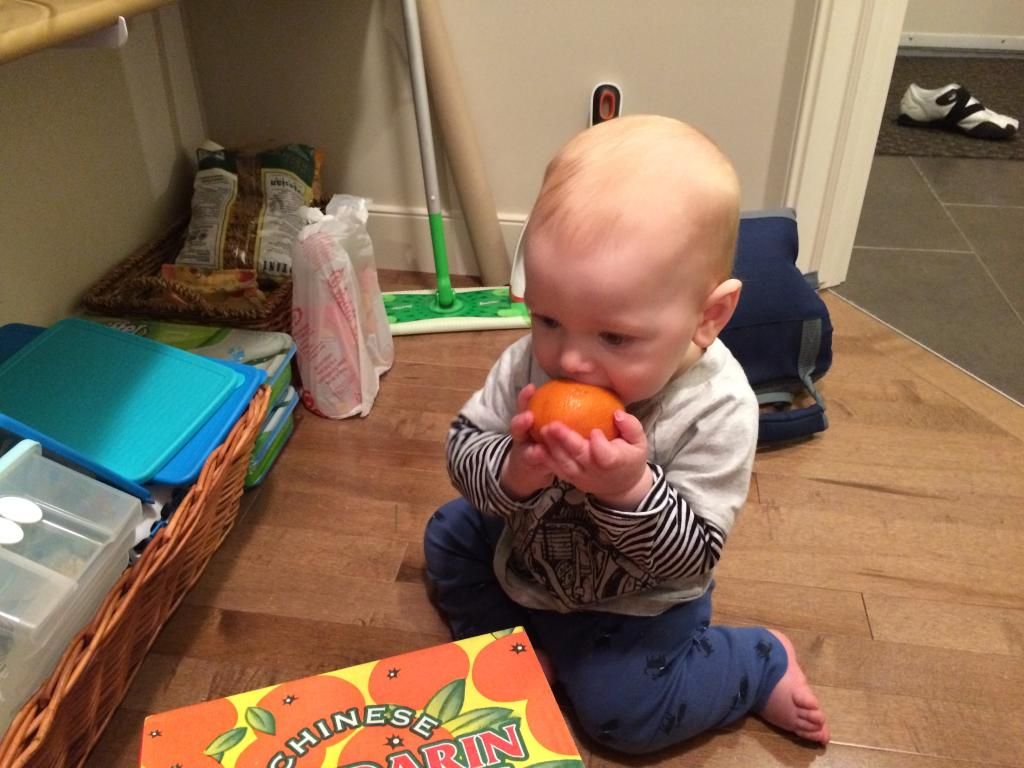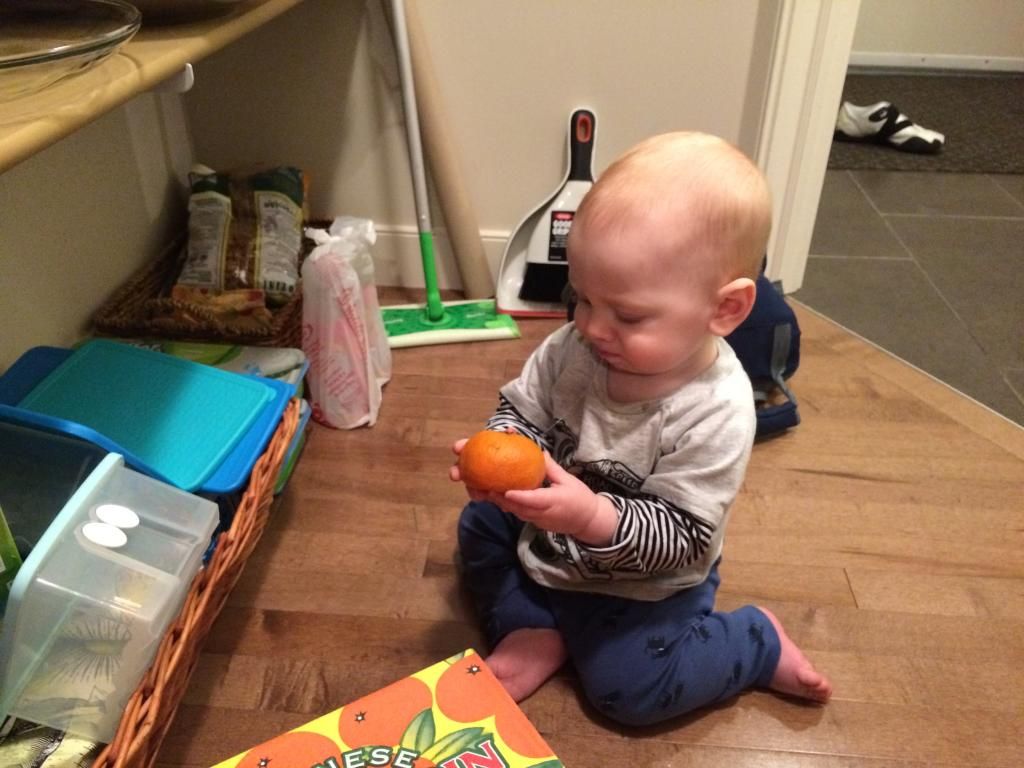 Ten months! And I swear you get busier with each month. From the moment you wake up, it's go-go-go! You have toys to play with, rooms to explore and stairs to climb. You love coming downstairs in the morning and checking out all your toys. I joke you are inspecting to make sure they are all still there. You are a crawling machine and are pulling yourself up on anything and everything. You love to do the stairs, and will often insist on having a small toy in your hand while doing so. Of course we are right behind you because you still haven't fully grasped that if you look back to see if we are cheering you on, you lose your balance. Pulling anything within sight out of drawers or baskets is another one of your favourite activities, especially the basket of books in your bedroom. You are very methodical about this task, pulling each book (or item) out of the basket at the same speed until said basket is empty. Once it's done, you happily move on to the next basket or toy.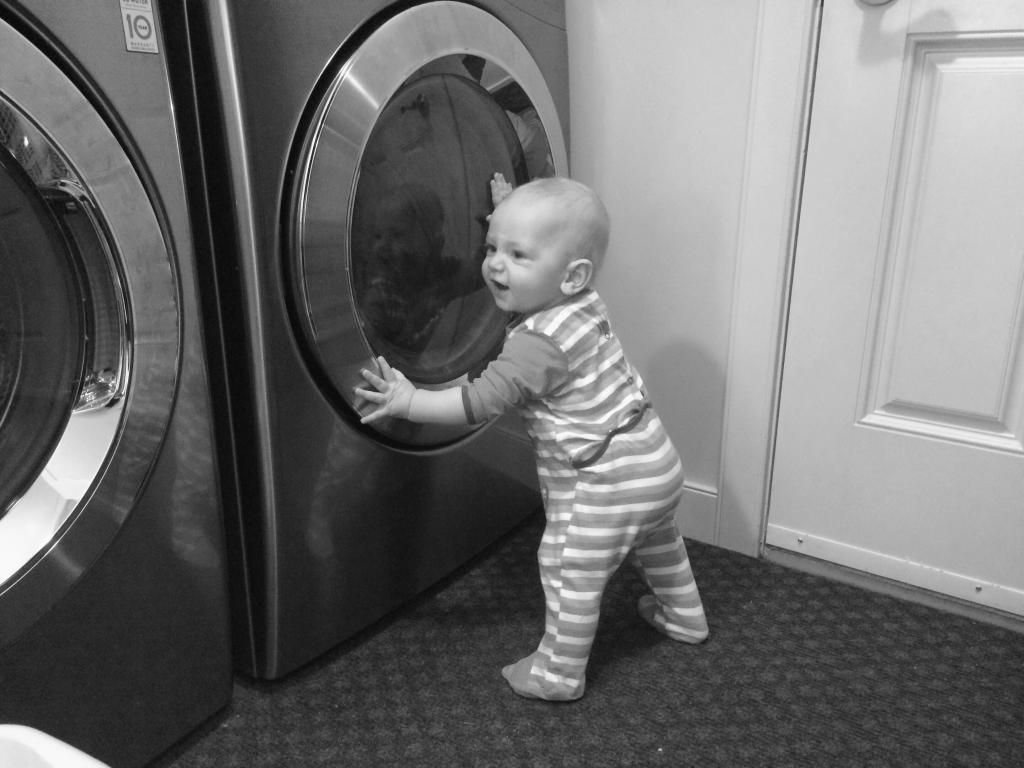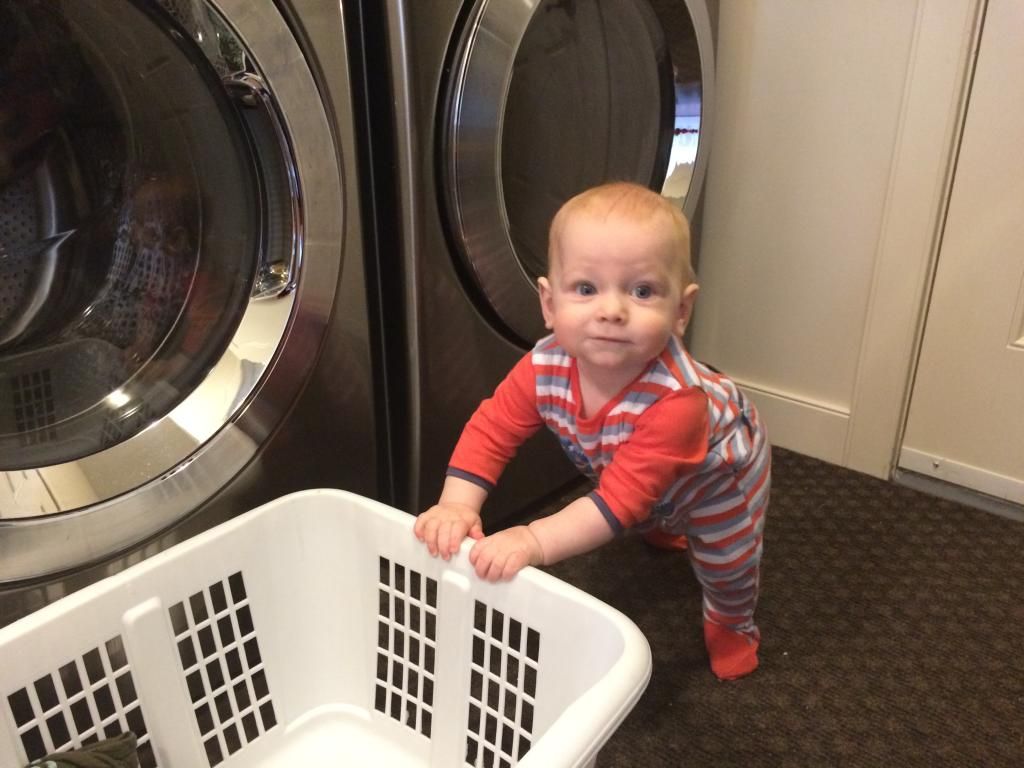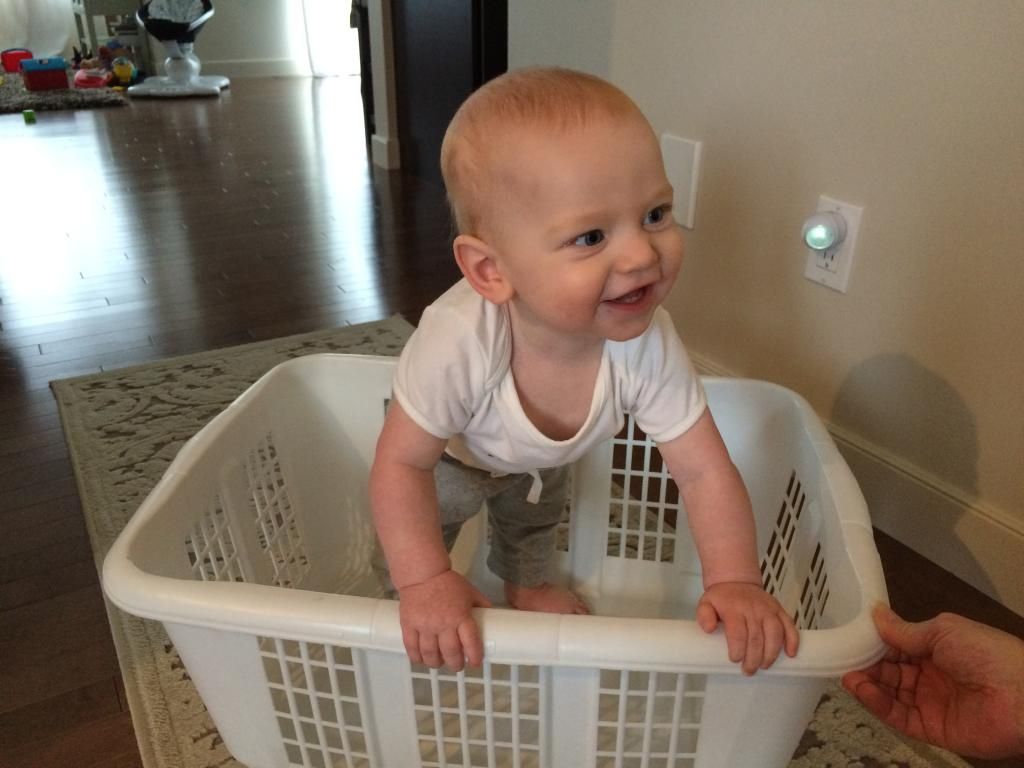 All of our organized programs wrapped up this month - music class, barre class and dance class. I'd be lying if I didn't say I was looking forward to having some down time at home instead of being on the go so much during the week, especially as the days get colder. But we still made sure to have play dates with all your little friends, including a painting day, which if we're being honest, you weren't really all that into. We also had a sleepover at your cousin's house in Red Deer. While I wish you were closer in age to them, I can already see you will still have so much fun with them as you get older.
We never popped into the health clinic to weigh you this month, but your daddy weighed you on our home scale and you weighed 20 pounds, which sure feels about right! Your still wearing some 3-6 month clothing depending on the brand and some 6-12 month items. Pants continue to be a struggle as you're so slim through the waist but your legs are getting longer. We may just have to invest in some suspenders! Your appetite is excellent and you are a fantastic little eater. You're still nursing every 3-4 hours, but your favourite foods are mini mandarin oranges (seriously, you start flailing you arms when you see these come out), green peas and green smoothies. Your first top tooth also finally came in, and your second top one doesn't look too far behind. We finally purchased your new big-boy carseat and while we haven't installed it yet, you've been having a lot of fun crawling all over it and practicing sitting in it!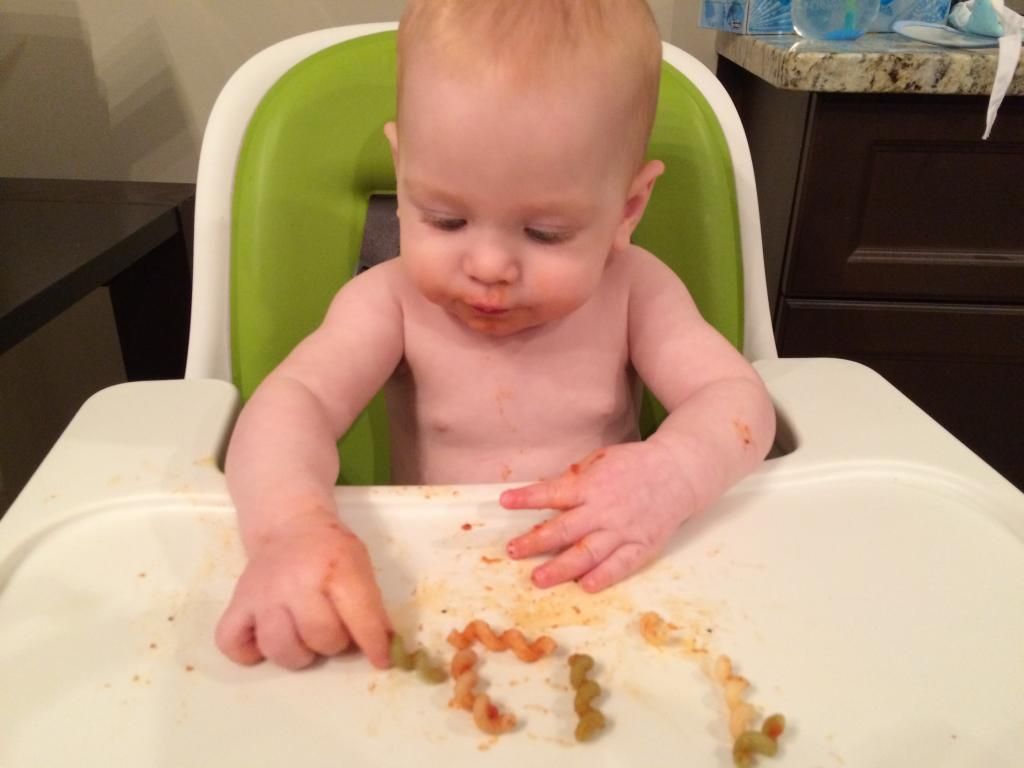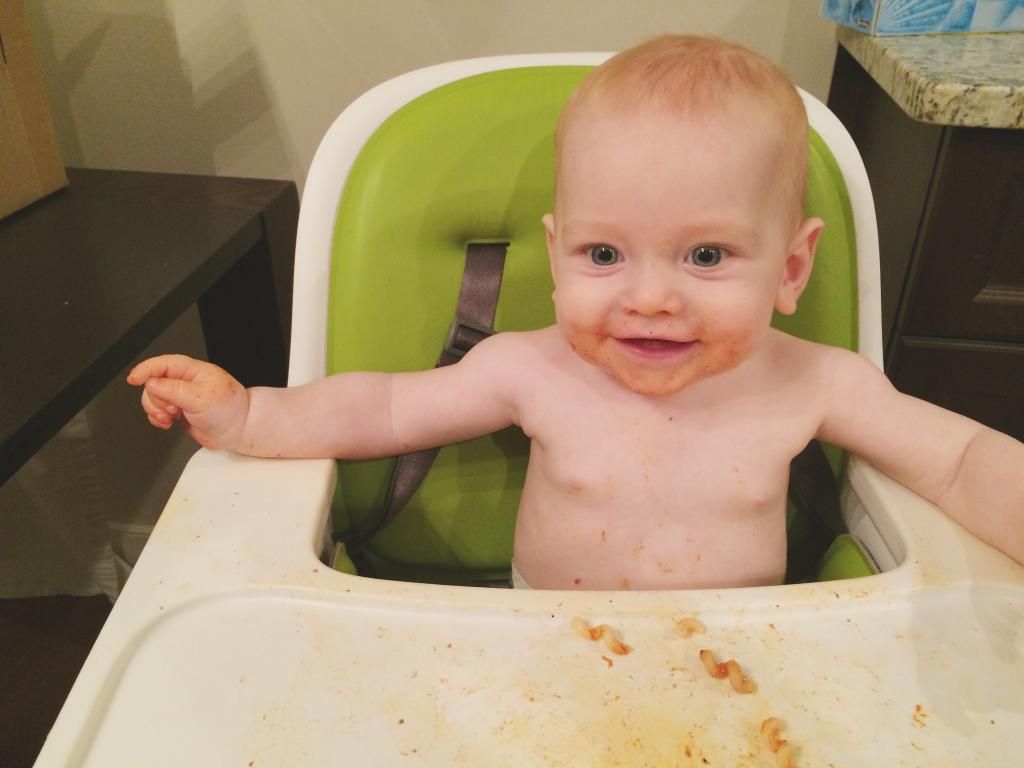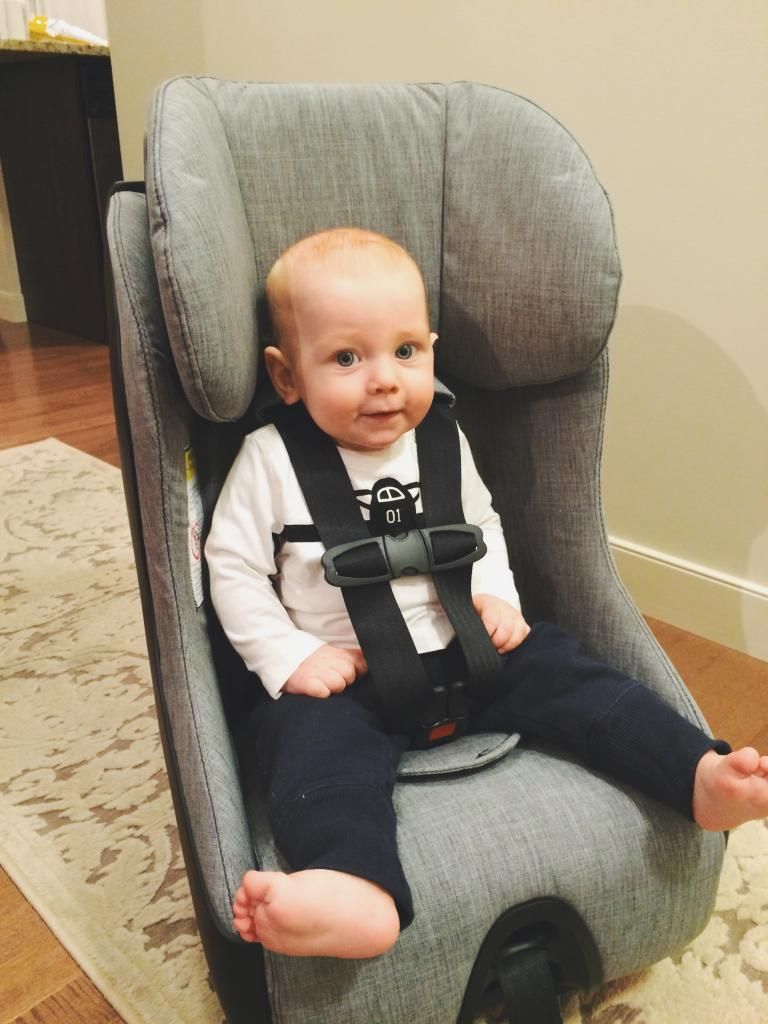 Your personality develops more and more everyday and this past month you've really demonstrated how much you like to entertain your daddy and me. When you want our attention you will grunt and it is adorable. You also "talk" a lot, and love to say "dada, dada", much to your fathers delight! When daddy comes home from work, he always comes in through the front door and your face lights up, you drop whatever it is you are doing and make a beeline for him. You also love to interact with other babies and kids and will often grunt or shriek when we are in public and you want to get their attention. We are working on being more "gentle" when you are playing with other babies as you like to whack them on the head when you get too excited.
This past month we took you to see the Leduc Christmas lights. You were in awe the entire time, barely making a peep! We also went to the water park at West Edmonton Mall for daddy's kids Christmas party. The best part about that was your best bud Harrison was also there with his parents. We took you into the wave pool, but you preferred the less scary kiddy pool. And of course, your first Christmas wouldn't have been complete if we hadn't taken you to see Santa! Unfortunately, you were not a fan of Santa at all. Hopefully next year you will feel differently!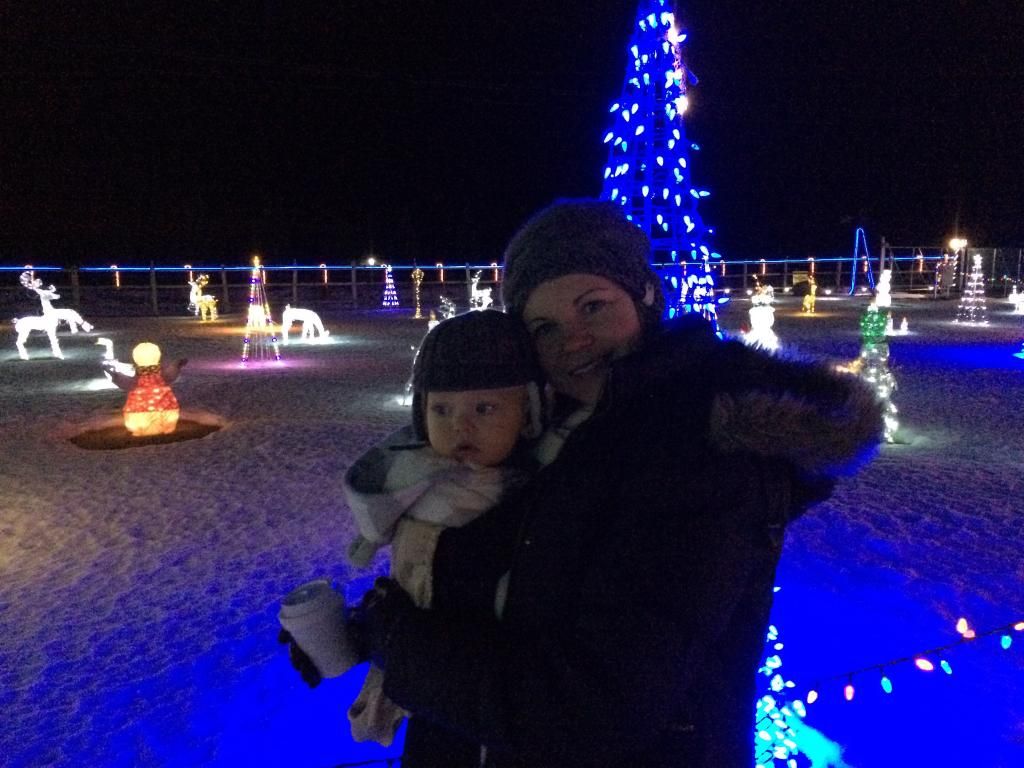 Sully, I'm going to say it every month, but that's because it's the truth: every month with you is more delightful than the last one. Your curiosity and joy in the tiniest little things is both humbling and beautiful. And your laugh! It's the best sound in the whole wide world and never fails to put a smile on my face.
I love you to the moon and back,
Mommy, xoxo