Just when I felt I was getting my blogging momentum back, the preparation for our move to Calgary seemed to suck up all of my free time. There were so many last minute errands to run, play dates to have, and multiple cleaning frenzies to show our house, that I feel like life has been moving in warp speed these past two weeks. We made it to our new (temporary home) Saturday evening, and I finally feel like I have time to breathe. It's a weird feeling not having a to-do list a mile long! Since I haven't done a Currently post since October of last year, I thought now would be a good time to do one before I delve in to the other posts I have in the works.
So amongst the chaos of the past few weeks, I'm currently…
Thinking about:
My families future. When we decided to make the
move from Edmonton to Calgary
, we never really thought about what would we do if our house didn't sell in time. We just assumed it would sell, but unfortunately, that isn't the case yet. January is historically the slowest month in real estate, so while we aren't surprised our home hasn't sold, it has made the transition tough. Instead of packing up our whole life and moving in one go, we've had to leave most of our stuff and our home behind and move into temporary accommodations while we wait and see what happens. Our house selling or not selling will predict where we go from here.
Reading:
Wild by Cheryl Strayed
. I started it last weekend in preparation for seeing the movie last Wednesday with my mom, but I was only able to get 60 pages in. I was worried that I wouldn't want to finish the book after seeing the movie, but actually, the film left me dying to finish the book! The movie was great, my mom and I both thoroughly enjoyed it, but the book just has so much more detail.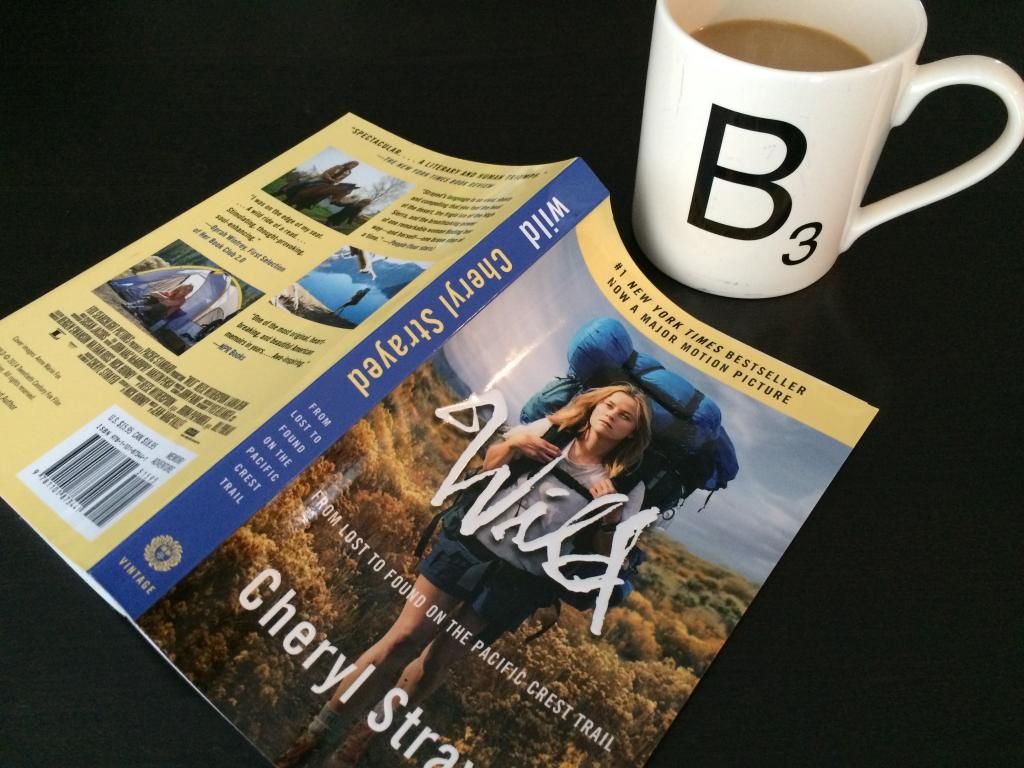 Listening to:
A lot of radio. The CD player in my car broke about a month ago and I don't have an auxiliary port to listen to an iPod, so the radio it is! I've been hearing this song quite a bit lately and I just love it!
Watching:
We are late to the game as per usual, but HELLO Sons of Anarchy! Why did we wait so long to watch this?! We just finished season two, and while we had to put the starting of season three on hold while we prepared for our move, we are dying to jump back into it. Have you watched it? It took us a good 4-5 episodes to really fall in love with it, but now we are hooked.
Eating:
Oh dear lord, fast food has been my best friend lately and I'm not proud of it. We are still drinking smoothies regularly, although not every single day like I had
resolved
to back at the beginning of the year. I know there are a million excuses I could make for why I am making unhealthy food choices, so I'll spare you. My goal for me and my family this month is to get us back on track with cooking and eating more wholesome foods!
Looking forward to:
Settling into our new life in a new city! I'm not going to lie and say I'm not a little bit scared of feeling overwhelmed or lonely as I figure out a new city, but I'm definitely excited for this next adventure. Moving with a baby is tough, but they also force you to get out of the house and do things. I'm also starting to plan Sully's first birthday which is in less than a month! I vow I will not fall victim to the pressures of Pinterest perfect parties though. I fully accept that this party is all for me and not for him. How do I have an almost one year old? It's crazy to think that this time last year I was super pregnant.
What book are you reading? TV show you can't get enough of right now?
Let me know in the comments!