I know, I know, where are the New York trip posts, you're probably wondering?! They're coming, I promise! Trying to recap all that went on in that trip is a way harder than I thought it would be! Come back next week and I'll have them ready :)
Last Sunday, I ran my first 10K race, not only post baby, but in 5 years! When I first signed up for the
Calgary Marathon
10K, I was super motivated to train for this run. But, of course, life got in the way and my training took a back seat. I seriously considered moving down to the 5K, and had it not been for all the other awesome women running in the Calgary Marathon, I might have backed out of running completely. Luckily, Leigh, Becky and Lindsey convinced me to just go for it and that worse case scenario, I'd end up walking a lot of the way.
The day before the race, I met up with
Leigh
and
Becky
for lunch at Famoso (blogger fail - no photos were taken!), and to discuss race day plans - what time to meet, what to wear, music or no music, etc. You know, typical runners talk, or so I assume - I'm no pro at this race thing. Then I headed over to the race expo to pick up my bib and race package. The expo was pretty quiet by this time, but it really hit me while I was there, just how exciting and big this run was going to be. Originally I was nervous about navigating my way to the race early Sunday morning, but luckily Becky and I were able to co-ordinate our c-train times and caught the same train to the grounds.
Amazingly, Saturday night I got to bed around 10pm and it didn't take me too long to fall asleep. I set my alarm for a few different wake up times, and had all my clothes laid out for me for the morning. As luck would have it, Sully woke up around 12:30am and would not go back to sleep. Jim went to tend to him, but I could not fall back asleep. He kept us up till almost 2 am at which point he finally fell asleep in our bed. Two hours later I woke up in a panic thinking I had slept in. I had horrible dreams that night about sleeping in as well, so when it was finally time to get up at 5am, I actually welcomed it! Surprisingly, I felt quite rested - yay for race day adrenaline!
I got dressed, ate two pieces of peanut butter on toast and then drove to the train station. It was pretty neat how packed the train was with runners at 6 in the morning on a Sunday! Becky got on my train a few stops after me and we arrived at the packed grounds around 6:20am where we met up with Leigh. We had just missed the blogger meet-up for a photo op as most of those girls were running the half marathon which started at 6:30am. We tried to find them at the starting line, but no such luck! There were about 15,000 people running that day!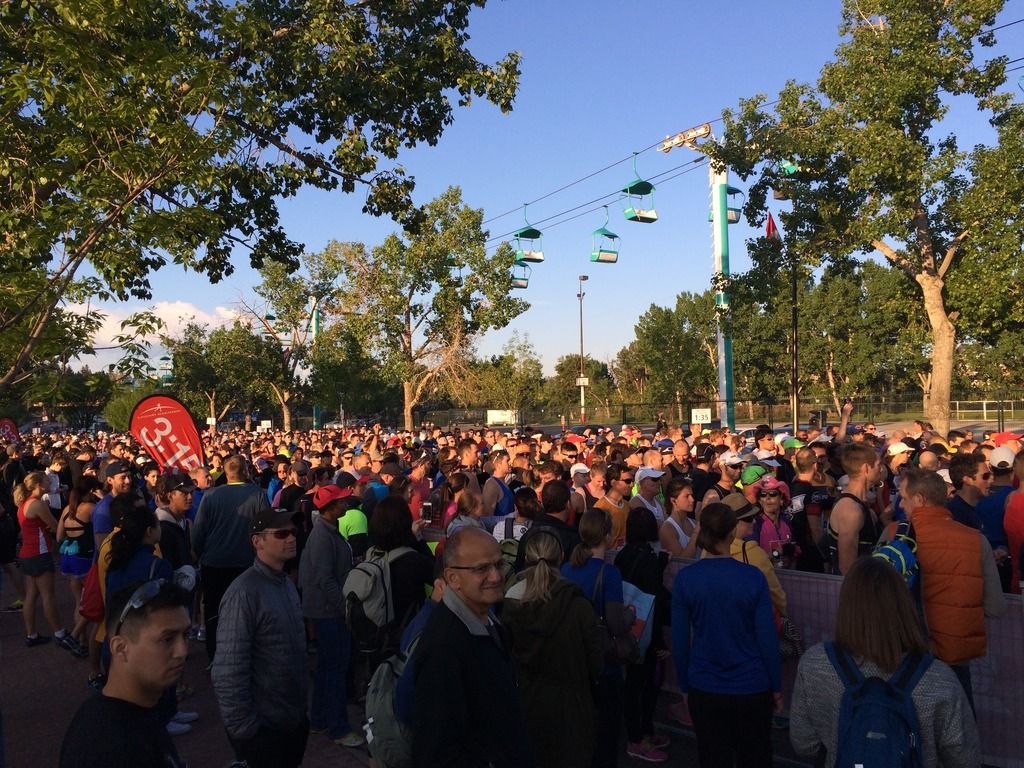 The start line for the marathon, half and ultra was packed and it was crazy how long it took everyone to finally cross the start line. We met up with Leigh, took our pre-race photo, checked our bags, finished our water, and used the porta-potty's one last time before lining up for the 10K which started at 7. I was still feeling pretty unprepared and it really hadn't hit me yet that I was going to have to start running in a few minutes. I told Becky that I was going to follow her lead with run/walks, but that she did not have to adjust her pace for me.


Becky and I ran the first few kilometres together, taking one walk break around kilometre 3. Around kilometre 4 I knew I needed to try and keep running without walk breaks to keep up my momentum. I was feel so great in those first 4 kilometres. Nothing hurt and all the elements were in my favour - not too cold and not too hot! After I hit 4K I told myself I couldn't walk until I hit 5K. Kilometre 5 came quickly so I said keep running until 6K. I felt like the kilometres were passing so quickly (which usually isn't the case when I'm running). My fear of not being able to finish the race strong went out the window. I was pretty confident by kilometre 7 that I could finish by 1:15 no problem, and 1:10 if I pushed myself.
The only times I slowed down was at the next two water stations, but just long enough to grab a water and drink it. The 1:10 pace bunny was within sight in front of me and I did my best to keep up. When I hit 8K, I planned to keep my pace till 9K and then I would give it my all to make up for some lost time. Somewhere between kilometre 8 and 9 I passed the 1:10 pace bunny and I was feeling pretty good! But then kilometre 9 came and it was the toughest one - a steep incline at the beginning of it really slowed me down and I got a bad stitch in my side. I tried to regulate my breathing and massage it out and it eventually did go away, but I wasn't able to sprint the last half kilometre to the finish line like I was hoping to.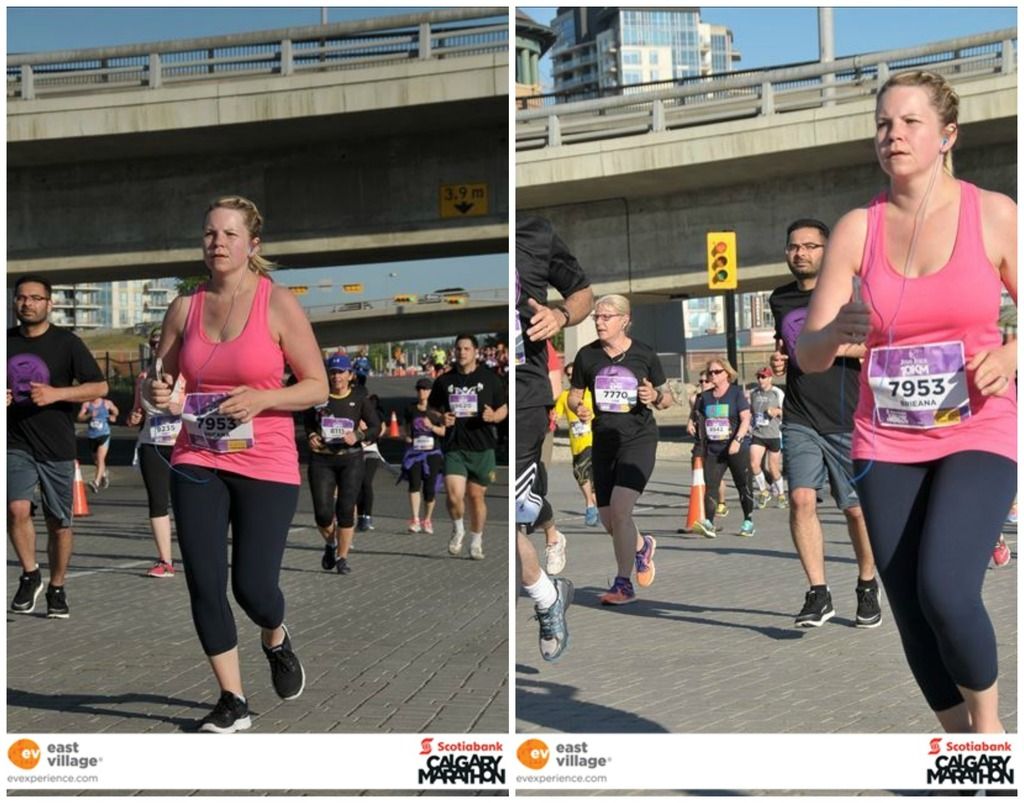 That last half kilometre was so windy and loopy that I thought the finish line was never going to come! When it was finally in sight I could feel my heart swell with pride and a huge smile form on my face. I had done it - I had run 10K, I gave it all I had and I was pretty damn pleased with my results! I crossed the finish line at 1:11:27, but knew my actual time was a little bit less. I was shocked and pumped! I managed to stay ahead of the pace bunny by just enough! And considering that my previous and only 10K (that I actually trained for) time was 1:08:17, I couldn't be happier!
TIME: 1:09:12
OVERALL: 1868/2899
GENDER: 1052/1858
AGE GROUP: 214/329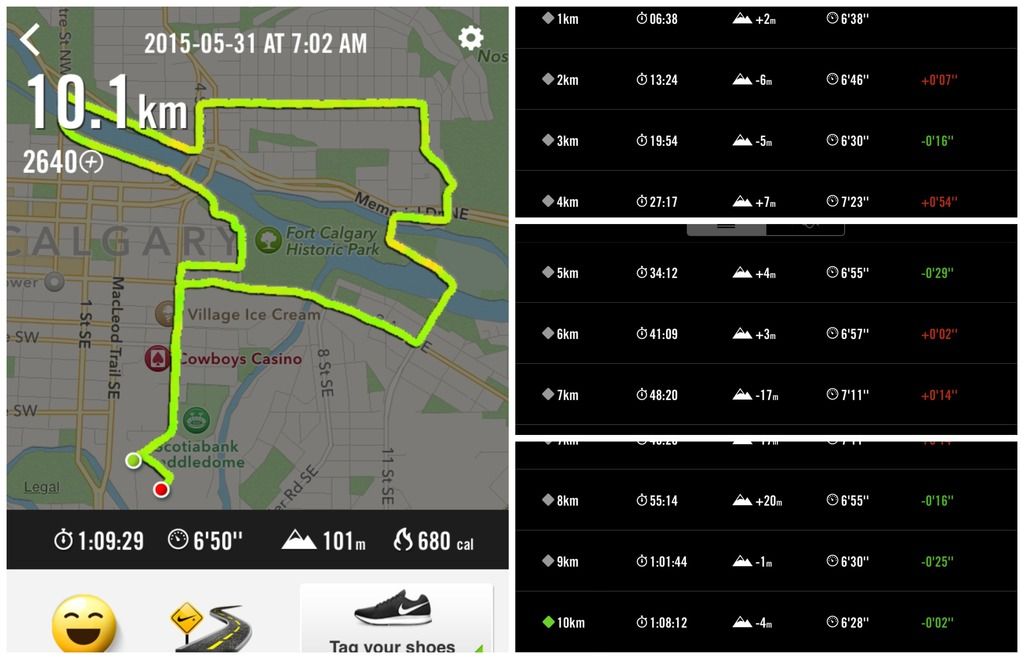 Becky and I met up at the finish line and had about a million photos taken of us together! Seriously, my race photo proofs are hilarious - there's about 5 photos of Becky and I to every one photo of just me, haha! Then we went and found Leigh, had our after-race photo taken and then we met up with
Jen
and
Kaella
who both ran the half marathon. It was great to finally meet those two!
We hung around the grounds for a bit and watched Kaella run the kids kilometre dash with her son London. It was the cutest thing ever and I can't wait until I can do something like that with Sully! Right before heading home, we also quickly met
Laura
who was running the 5K. What a great day for finally meeting some awesome Alberta bloggers!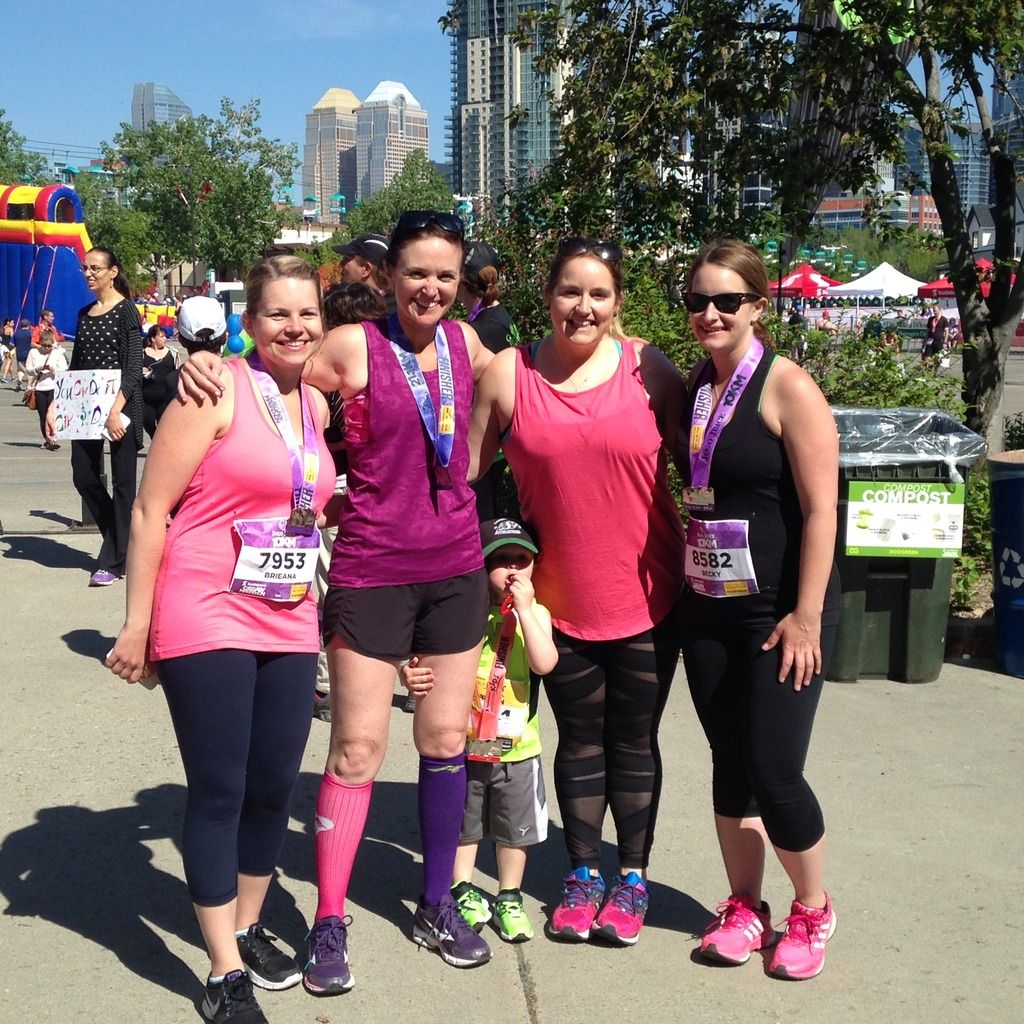 I've had a few days now to reflect on my run. Beforehand, I was so doubtful of my ability to run the 10K. I knew that physically, I could manage it, but mentally, I wasn't so sure. So much of running is a mental challenge for me. Running this race reminded me how much more fun it is to run with friends and to run in a race setting. The energy a race this size gives off does wonders for your motivation! Becky commented after the race that I didn't need her out there after all, but she's wrong - I DID need her. She gave me the confidence to run the race in the first place and she helped me start out strong and kept me at a pace that didn't have me burning out in the first few kilometres. I wish we lived in the same city - she'd be a perfect running buddy for me!
I totally get now why running races is addictive - I already want to sign up for another 10K! I know I can easily beat my PR from 5 years ago! Calgary Marathon - see you next year!