It's been a month since we started
The Grapes of Wrath readalong
and sadly, today, it comes to an end. I'm not so much sad that the book is over, I'm really more sad that the
readalong
is over. And I'm really glad that I read this book with an awesome group of people, because it allows you to talk about all the WTF moments and depressing moments and the feeling sad moments. Really, if you haven't done a readalong before you, you really should. Oh ya, and spoilers ahead. Obviously, because it's the end of the book! And WE MUST talk about the end of the book.
ANYWAY. The Grapes of Wrath has now been read in its entirety. And let me just get it out there - I DID NOT see that ending coming. But first, let's talk about the last 1/4 of the book!
When we last left off, the Joad's were still living in the government camp, enjoying the flushing toilets, hot water and daily baths. Well, they lived in said camp for about a month at which point there was no longer work for the men and food was pretty much scarce. Ma decides it's time to pack 'er up and hit the road to look for work:
Ma plunged the dish into the bucket. "We'll go in the mornin'," she said.

Pa sniffled. "Seems like times is changed," he said sarcastically. "Time was when a man said what we'd do. Seems like women is tellin' now. Seems like it's purty near time to get out a stick."
Silly Pa. We all know Ma is the boss.
Rosasharn still hasn't given birth to her baby and she's craving dirt (most likely iron deficiency) and getting all snooty because she hasn't had milk in a long time, even though she was told by the "nurses" in the camp she should. Then she tells Ma that if Connie hadn't taken off, she'd be living in a house with all the milk she needs! (Delusional.) So Ma decides Rosasharn should have her ears pierced before she gives birth. Because that makes sense.
So once Rosasharn's ears are pierced, the Joad's pack up and find a peach farm that is hiring pickers. It takes the poor family a whole day of picking just to earn one dollar which buys them just enough food for supper. The living conditions here are poor and the whole operation is run with strict enforcement - almost like a prison. It was hard not to have a lump in my throat while reading this section - I just kept waiting for the bomb to drop. WHERE IS THE BOMB, STEINBECK?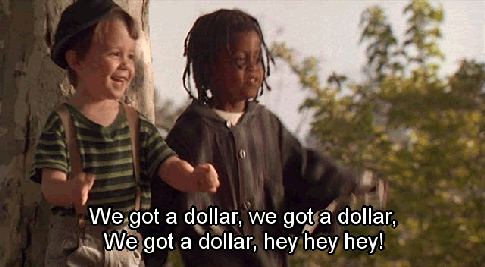 But then Tom decides to sneak out of the camp to explore and he runs into Casy! Yay, Casy! Except Casy has joined the strikers and while he's convincing Tom to convince his family to stop working, he gets his head bashed in. And then Tom get hit in the face, but manages to pick up the club and hit a guy on the head with it, killing him. It was all very sudden and a bit gory. And poor Casy. But luckily Tom is able to sneak back into the camp where he has to tell his family the truth. Now that his face is bashed up, he has to lie low and can't help his family pick peaches. When the Joad's realize how much trouble Tom is in if he gets caught, they decide to pack up again and sneak Tom out of the camp.
Next stop: Cotton picking! At this point, Tom decides he needs to hide in the brush until his face heals. And the rest of the Joad's get to pick cotton by day and live in a boxcar by night. Am I the only one that thought boxcar meant a little wooden car, and was thinking how the hell do entire families sleep in a boxcar? Are you on drugs, Steinbeck? Ya, me neither.
Boxcar in Brie's head




Boxcar
like the Joad's would have lived in.
But then silly Ruthie gets in a fist fight with some kids and like typical kids, they start threatening to get their older brother's to beat them up at which point Ruthie blabs about her having a brother who's killed two people. Ma knows Tom can't come back now, even once his face his healed, so she gives him some money and we never hear of him again.
And then the RAIN comes. But it doesn't just rain, it pours. Literally. It rains so much that fields are wiped out, families living arrangements are threatened by flooding, and everybody and everything is soaking wet. And this means there are no jobs and therefore no food. And really, is there even hope anymore at this point?
Of course, this is when Rosasharn goes into labour. And while the men are outside in the pouring rain, trying to build up a bank to prevent the streams from flooding their boxcars, Rosasharn gives birth to a stillborn. WHICH, I think is a good thing, because I'm pretty sure raising a baby at a young age, all on your own back in those days wasn't easy (or acceptable in most people's eyes). Unless your a widow. Then I think most folks just pity you.
At this point, we only have a few pages left. And I'm thinking, how can this all end in a few pages?! Is Steinbeck going to have everyone DROWN!?
Spoiler: No one drowns. But the water keeps coming and the boxcars are flooding, so the Joad's wade out to find dry ground. They come across a barn on the other side of the road, but they quickly realize they aren't alone in the barn. In the corner is a young boy with his starving, dying father. But no one has any food, let alone milk (milk seems to be the answer for sickly people in this book) and so Ma and Rosasharn share a knowing look and Ma ushers everyone out to the tool shed. AND THEN ROSASHARN BREASTFEEDS THE DYING MAN. And she strokes his hair, whispers "there, there", and smiles mysteriously. Mysteriously? Why mysteriously? THE END.
Ok, ok, I get there's some underlying symbolism here that I'm failing to grasp, like there's still hope even though life is shit, but COME ON. Well, Steinbeck, if you were going for shock factor, mission accomplished!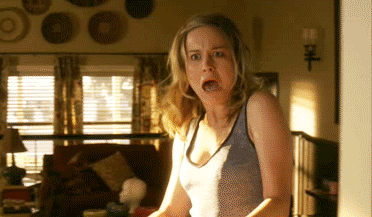 I'm not sure what I was expecting to happen (see first gif), but I was hoping for a little more closure at the end of the book - like some epilogue of the Joad's finding steady work, renting a small home, having enough food to eat, etc, etc. But I guess that would be too neat and tidy and hope is always the best ending, right? Well at least everyone's still alive (minus the people that previously died I mean). Although, if we're going to be all honest here, I am a little disappointed that Tom never got caught breaking his parole. I felt like there was so much foreshadowing for this, but I guess him having to leave his family and fend for himself at the end was punishment of itself.
In conclusion, I WILL MISS YOU READALONG peeps. Let's do this again real soon!
The women watched the men, watched to see whether the break had come at last. The women stood silently and watched. And where a number of men gathered together, the fear went from their faces, and anger took its place. And the women sighed with relief, for they knew it was all right-the break had come; and the break would never come as long as fear could turn to wrath.