Harry Potter and the Philosopher's Stone Part I
So before we all started this Harry Potter
readalong
, there was a lot of
Harry Potter
talk, and all I could think about was how overwhelmed I was not knowing much at all about the wonderful world of Harry Potter. BUT NOW. Now, it's all starting to make sense! Yay, soon (like the next few months soon), I will no longer be living under this rock where all I know is Harry Potter's name. While I have this vague feeling while reading this first book of having read it before, I really don't remember much of it at all. Other than poor Harry living under the stairs for the first 10 years of his life.
This week we read Chapters one through nine. And while I couldn't possibly provide any spoilers for things to come, spoilers are inevitable for what has already been read. So consider yourself warned. Although I'm pretty sure this isn't going to be an issue for like
anyone.
"...He'll be famous - a legend - I wouldn't be surprised if today was known as Harry Potter day in future - there will be books written about Harry - every child in our world will know his name!" (p. 15)
- When JKR wrote that quote, do you think she had any idea just how famous Harry Potter would really become? It's amazing really - to think about writing a series of books that would become so famous that literally everyone has heard of them.
- Oh god The Dursley's are the most infuriating people EVER. I wanted to reach through the pages and grab them all by the scruff of their necks and shake 'em. My blood pressure literally rose when Harry kept receiving all those letters and Mr Dursley kept intercepting ALL OF THEM. I really hope Harry casts a spell on them later on. Why did Dumbledore leave Harry with the awful Dursley's for SO LONG? Why was it so necessary that he be "raised" (and I use that term loosely because he wasn't really raised - he was pretty much neglected) by blood-relatives? Would Harry going off to Wizard school not seem as exciting to the reader had he been raised in a loving household? Or was JKR just following the whole orphan-hero theme that is so common in so many children's stories (Pippi, Series of Unfortunate Events, James and the Giant Peach, Hugo Cabret, etc). I mean, I like Harry right away, but is that because I feel compassion and empathy for what he's been through? Is that the whole point?
- When Harry figured out he could talk to the snake at the zoo, I pictured the snake from The Jungle Book. I'm sure that snake didn't get far - much like Alfred The Turtle.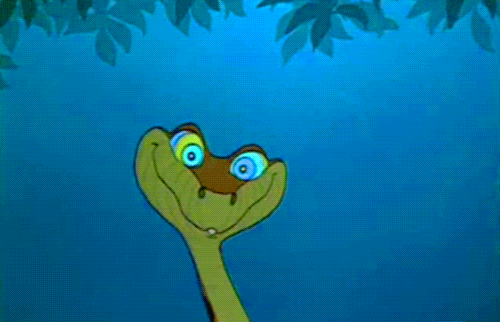 - We meet Hagrid! And I love him. I love that he gets to give Harry hope that there's actually a whole other life waiting for him outside of the sheltered one he's living with the Dursley's. And he brings Harry a birthday cake and buys him his owl for a birthday gift, knowing very well that Harry's never gotten
anything
for his birthday before. Tell me that isn't sweet!
- Oh Ron and Hermione. I mean, I know they all become great friends (well, I'm assuming this based on the film previews I've seen), but Hermione - you are SO annoying. And SO bossy! I'm assuming she becomes more tolerable as the books go on...and by "as the books go on", I mean, it better happen in this book.
Oh, The CUTENESS!
- All the first year students take turns sitting under the sorting hat to see which house they get placed in. (Now I get all this house talk!). Does Harry's dream (that he doesn't remember when he wakes up) about how he must transfer to Slytherin because that's his destiny, foreshadowing events to come?? Hmmm. Don't answer that.
- I do not remember Snape, but I do not like him.
- Harry's a natural at broom-flying.
When I got to the end of chapter 9, there was an old bookmark in the page from when this book was last read over 10 years ago. In the same spot that this part of the readalong ended! It's like I knew I'd be back one day.