Harry Potter and the Philosopher's Stone Part II
And just like that, the first book in the Harry Potter series is done. I mean, yes, it's been two weeks since the
readalong
started, but
still
. This whole readalong is just gonna fly by, isn't it?
I'm trying to gather my thoughts and feelings and put them into a coherent post, but it's TOUGH. So much happened in such a short book! And if JKR could write about so much in just over 200 pages, then imagine the adventures that must be in store in her bigger books! My brain can't even comprehend all that's to come. Good thing I'm an adult and should be able to handle the bigger books like any ol' 12 year old reading Harry Potter.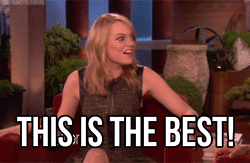 Readalongs are the best.
So since we left off:
- JKR does a good job of making you believe that Snape is pure evil. Or at least I sure fell for it. I mean, I still don't really
like
him, but I am kind of glad that he's not totally out to get Harry.
-Finally! Hermione, Harry and Ron are the best of friends:
"But from that moment on, Hermione Granger became their friend. There are some things you can't share without ending up liking each other, and knocking out a twelve-foot mountain troll is one of them." (p. 132)
Friends forever.
-Hallelujah! Because now Hermione's nagging and bossiness is much more tolerable for some reason. I think the tone from one character towards another changes when the characters actually like each other which changes the reader's feelings towards said characters. Now that Harry and Ron are friendly with Hermione, her bossiness is just a quirk that we can all put up with. And I say this as a very bossy person myself. Because my husband tells me all the time that I'm quite bossy, yet he still loves me. So there.
-Harry finally experiences Christmas as one should and it's his "best Christmas day ever". Which is terribly sad considering that it didn't take a lot for Harry to have the best Christmas ever. A few thoughtful presents, and a great feast? God, Dursley's, how could you not have been even a little bit nice to Harry on Christmas?
-The second terribly sad thing to happen in this part of the book (well, actually this part was the saddest to me, but it came after the aforementioned sad thing): Harry discovers the Mirror of Erised and sees the parents he's never even met in it. And it's all he can think about when he's not in sitting in front of the mirror. But then Dumbledore explains to Harry that the mirror "shows us nothing more or less than the deepest, most desperate desire of our hearts". And in that moment, my heart breaks for Harry. For the childhood he missed out on, the parents he never had and will never know and for all the unanswered questions he has and may never get answers to.
-We end this book with Harry coming out a hero (obviously). Harry, Ron and Hermione successfully put Fluffy to sleep, drop through the trap door and solve their way through the obstacles in order to get Harry to the Philosopher's Stone. This is where we find out that it's Quirrell who's all evil and
not
Snape. And Quirrell's not only evil, but he's also housing Voldemort in the back of his head. Which is disturbing, because, two heads in one. But Harry, just a young wizard, overcomes both Quirrell and Voldemort and manages to keep the Philosopher's Stone out of the wrong hands, before he passes out. When Harry comes to, Dumbledore tells him that the stone has been destroyed, but me thinks Dumbledore is *gasp*
lying
to Harry. We shall see.
Best quote of the second half of the book (other than the title of the this post of course):
'So light a fire!' Harry choked.
'Yes - of course - but there's no wood!' Hermione cried, wringing her hands.
'HAVE YOU GONE MAD?' Ron bellowed. 'ARE YOU A WITCH OR NOT?' (p. 202)