Dear Mindy,

Can we be BFF's? We can have sleepovers and watch television reruns all night. We can not go for runs together. We'll gossip about boys all night. It will be glorious.

Love,
Brie
Ok, but seriously, Mindy is one of those famous people I would actually want to be best friends with in real life. I watched Mindy as Kelly Kapoor on the office for years, looking forward to every time she appeared in an episode (damn you Mindy, for being such a great writer for the show that you eventually had to stop acting in it altogether). Then I found out she was writing a book and I was pretty excited for it's release. AND THEN, I found out she had her very own show coming out. Needless to say, I've watched every episode of The Mindy Project since it began airing last fall and I love it. I am a HUGE Mindy fan. Obviously.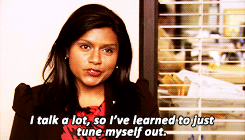 But let's back up. I hate to draw attention to how far behind I am in blogging about the books I read, but I actually listened to Mindy's book on audio back in August. I needed a new audiobook (this one was only my third one ever) and I had decided to go the comedy route thinking it would be easier to pay attention while driving in my car. And it's true: it's much easier to follow along with a book that really has no plot and is just a book of rambling musings of ones life, albeit, hilarious ramblings. That's not to say I didn't love this book. I did. It was light, funny, although not really laugh-out-loud-funny, more nodding-your-head-in-agreement-funny, and I feel like I got to know more about the girl in the television screen.
Side note: how do publishers/bookstores decide when to market a comedian's book as humour or as memoir when the content is funny, but also biographical at the same time? (Mindy's book, in Canada anyway, is shelved in the humour section, whereas, Let's Pretend This Never Happened by Jenny Lawson, aka The Bloggess, is shelved in the biography section.)
Having listened to Mindy's book shortly before her new TV show began has made me appreciate her show so much more. I feel like it's so "Mindy". So many of her personality quirks and tendencies that ooze out of her book seem to be portrayed in her character on the The Mindy Project. She may be
acting
to film the show, but her character on The Mindy Project is relatable, honest, sarcastically hilarious and just trying to find love when it seems like the search is hopeless. Which, really, isn't too far off from the Mindy in her book. Plus, her name in the show is also Mindy, so there's that.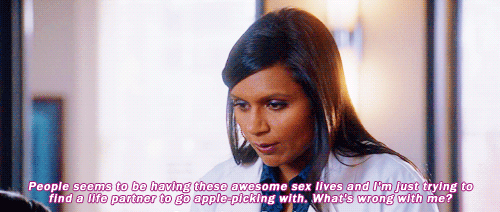 The problem with audiobooks is there's really no way to write down or mark your favourite quotes, short of pulling over in mid-traffic to whip out your pen and paper. Maybe this is a good thing, otherwise I'd be inclined to post a whole whack of quotes to get you to want to read this book (or listen to it). Or maybe the problem is I shouldn't wait 6+ months to blog about a book and I might just remember a favourite line or two. But probably not, because my brain does not work that way. ANYWAY...obviously, if you know who Mindy Kaling is and you aren't really a fan of her stuff, then you probably won't enjoy this book. And I promise I will try not to take it personally.