I always find April a little bitter-sweet. I mean, I'm happy that it's
finally
spring and the snow is starting to melt and the weather is getting warmer, but at the same time, where has this year gone?! Last year, I didn't do monthly recaps (because I never felt I had enough to say for one), but I did do a 6-month recap. This year, after I wrote my
2013 goals post,
I decided I would do quarterly updates. Mostly to keep myself in line and more accountable to said goals.
So here's a quick look at where I'm at:
1. Get Back to Basics
: I haven't been meal-planning, but I have been cooking much more often, although I haven't tried any
new
recipes. I've been packing my lunches for work, but only the snacks portion. I'm still struggling to find foods to take for lunch that are easy to eat in my car. Someone mentioned using a thermos so that I could then take leftovers to eat (which are my favourite lunches). Does anyone have a type/brand they recommend?
2. Get Off my Butt
: In February, I bit the bullet and got myself a gym membership. When the gym I had been wanting to join, opened up another location a block from my work, I took it as a sign. I'm proud to say I've been going 3-4 times per week since I joined. Except for this one
workout fail
.
3. Walk the Dog
: While he still gets out at least once a day, it's not always in the morning on my days off and Jim and I don't always go in the evenings together even when we can. I like to believe that the cold weather had something to do with this - why should we ALL suffer from the freezing temperatures when we can divide up the time spent out in the cold? And sometimes, when it's not freezing cold out, we don't just walk, we
RUN
.
4. Cook-Book Scrap Booking
: Fail. Haven't even started. But I
think
about it a lot.
5. Abolish Clutter
: Working on it. The Shit room is
tidier
but that's just because Jim organized the junk in there into neat piles because we had a guy coming over to look at the furnace.
6. Write
: While I often fall behind several days in writing in my Q & A book, I have been staying caught up with writing in it. It's fun!
7. Finish Unfinished Projects
: (ie. finish unfinished furniture projects). Saving this one for the warmer weather!
8. Catch Up
: Hmmm...well, I can't say I've caught up on my "reviews", heck, when's the last time I even posted a review - besides Harry Potter musings?!
9. Read
: Goodreads says I'm 3 books behind if I want to make my goal of 50 books per year. Which is pretty good considering I have about 5 books on the go right now. But there's always room to read more...every time I choose to play games on my phone, spend time on the computer, or watch TV...is time I could have spent reading instead.
10. Stop Biting My Nails
: Ha...Hahaha!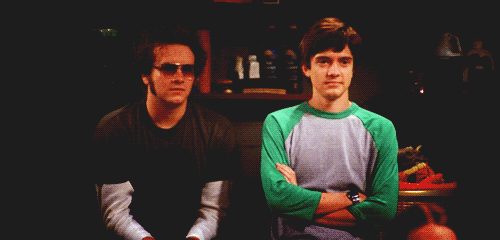 In Other Bookish News:
- I'm still trudging along with The Harry Potter Readalong. I've fallen behind ever since going to Mexico last month and have been struggling to catch up. These books are HUGE! But I really want to finish reading them or I worry I never will. And not because I'm not loving them. You just know how it is...books constantly get pushed to the back burner for newer books! Jim and I have also started watching the movies as I finish each book in the series and we're quite enjoying them.
-I recently just finished listening to Sophie Kinsella's, I've Got Your Number in my car while I'm out and about working, and I loved it! The story was fun and cute and the narrator was a pleasure to listen to.
-Last weekend I started at the top of my bookshelves and started scanning all my unread books into goodreads. I will never say I will stop buying books, but I thought if I had a real list of all the unread books I own, I might be more inclined to read more off this list. I'm only half way done scanning and I'm already at 80 owned and unread books. Sigh. This little project has only proven to raise my sense of feeling overwhelmed. But it's also nice to feel somewhat organized about my TBR.
The Stats:
Books read this year so far
: 7
Harry Potter and the Philospher's Stone (Readalong posts #1 & #2)
Harry Potter and the Chamber of Secrets (Readalong posts #1 & #2)
Harry Potter and the Prisoner of Azkaban (Readalong posts #1 & #2)
Harry Potter and the Goblet of Fire (Readalong posts #1 & #2 to come)
The Secret Daughter by Shilpi Somaya Gowder
Beautiful Creatures (Caster Chronicles #1) by Kami Garcia and Margaret Stohl
I've Got Your Number by Sophie Kinsella (audio version)
Number of pages read
: 2340
Percentage of fiction
: 100%
Percentage of female authors read
: 100%
Percentage of Canadian authors read
: 14%
So let's bring on spring! As much as I love reading all snuggled up on the couch, I much prefer to sit outside on the deck and get lost in a book. Warm weather, I am ready for you!
What books did you read this winter?
Do you prefer cozying up indoors to read or taking
your book out into the sunshine?