I always love to hear what other pregnant momma's can't/couldn't live without, so I thought it would be fun to do a little round up of my favourite products and must haves during pregnancy. Pregnancy is an exciting time, but not without it's challenges! Below are the things that made my 10 months of pregnancy just a little bit more comfortable.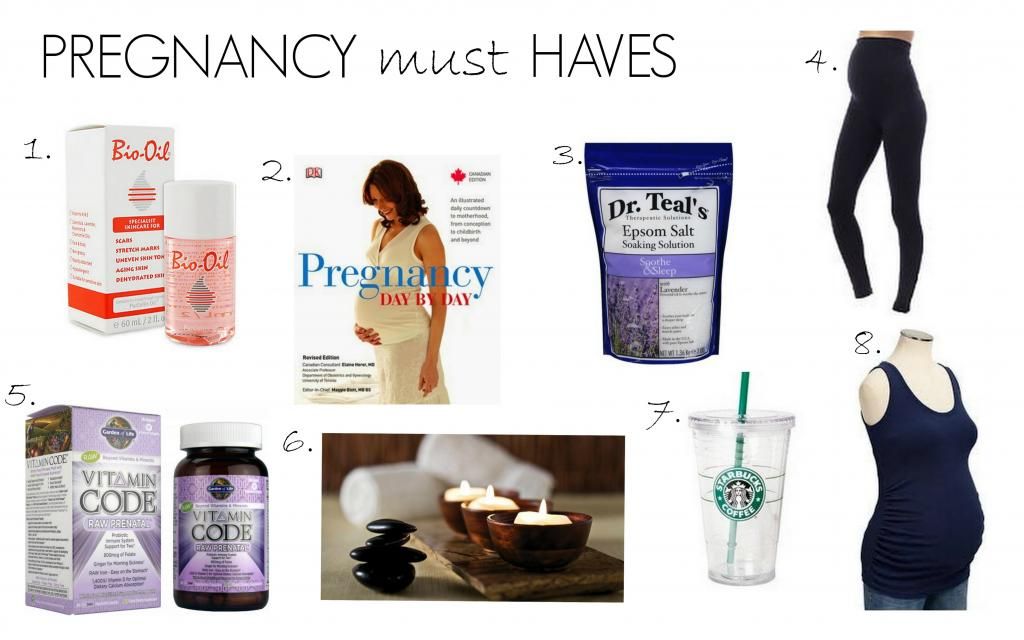 1.
Bio-Oil
: I applied this every night to my belly, breasts, and thighs in hopes to ward off any stretch marks. I'm not sure if I have Bio-Oil to thank or just plain luck, but I'm pretty stretch mark free. I also found this product to be super moisturizing for my legs during the winter months. This product is pricey, but luckily Costco sold it for a fraction of the cost of drug stores. In the mornings, I applied regular ol' cocoa butter lotion.
2.
Pregnancy Day by Day (Canadian Edition)
: I bought a few pregnancy books at the beginning of my pregnancy, but this one was hands down Jim and my's favourite one. There is a page to read each day highlighting changes in utero and things to expect during your pregnancy, along with tips and advice. It was a great resource, and it was fun to see the day to day changes in your fetus.
3.
Dr. Teal's Lavender Epsom Salts
: I am not a bath person, but in my third trimester, I was so sore by bedtime that I often needed a hot bath to soothe my aches and pains before bed. I'm a huge fan of lavender scented anything and found this product to be very relaxing.
4.
Thyme Maternity Leggings
: I lived in these leggings for the last half of my pregnancy, in fact, I had a few pairs just so I always had a clean pair to wear. I have no other brand to compare them too, but these ones stayed up on my belly and paired great with dresses and tunics. I even wore them for several weeks postpartum!
5.
Vitamin Code Raw Prenatal Vitamins
: My stomach is really sensitive to iron supplements and the first type of prenatal vitamins I tried did not agree with me. It was so bad that I was actually worried that I wouldn't be able to take prenatal vitamins. Then one day my friend Traci gave me a few bottles of the Vitamin Code ones and it was like night and day in comparison! I tolerated them with no problems my entire pregnancy. I cannot recommend them enough.
6.
Massage Therapy & Chiropractic Care
: When my SI joint pain got so bad and I was willing to do anything to find some relief, everyone told me to go see a Chiropractor. I had never been to a Chiropractor before, but my friend Lisa recommended one that she had been to during her pregnancy. I started to go for treatments as well as regular prenatal massages at the same clinic. If you happen to live in the Edmonton area, I highly recommend Dr. Sarah Wu and Haylee, RMT at Momentum Chiropractic Clinic. They both helped me work through the pain and discomfort I was experiencing and often fit me in last minute.
7.
Starbucks Cold Cup Tumbler
: I'm not always the best water drinker, but I knew I had to up my intake during pregnancy. I don't know why, but water tastes so much better when drank through a straw. This was (and still is), my go-to water "bottle".
8. Long Tank Tops: I'm pretty sure I wore a long tank top everyday. They covered my butt and ever expanding cleavage and just seemed to make tops look more smooth. A huge pregnancy wardrobe staple in my opinion. I wore a few of my regular, extra long tanks throughout my pregnancy, but I also really like the maternity tank tops from Old Navy with the ruching on the sides for when I just wanted to wear a tank top solo.
I'd love to hear what's on your list of pregnancy must haves!
What couldn't you have survived without?