I'm slowly starting to collect holiday themed books with the intent of pulling those books out only during that specific holiday (so Christmas books at Christmas time, Halloween books for Halloween, etc…). It keeps the stories fresh and exciting, and as Sully gets older and understands the methods behind my madness, something to look forward to.
While I already have a good stash of Christmas books piling up, I was really slacking in the Halloween department. So I started to do some research on popular Halloween books for toddlers and put in a huge request at the library. There are so many books out there and I hate to say it, but there's a lot of really bad books out there. My money is important I was not about to go ahead and purchase a bunch of new books without first test driving them.
It didn't take us long to get through the huge pile we took out from the library, and Sully made it pretty clear which ones he liked and which ones he did not. His favourites he would constantly bring to me during the day to read and I would often find him flipping through them on his own.
We're still heavy into the board book stage, so I stuck with only board books this year. They're short enough to keep his attention and they are pretty indestructible. Books with flaps to lift are also a huge hit with him, and while I find them a little boring, I really like the give and return they provide. I can ask him to point out other things on the page that I notice are consistent (like "where's the mouse" who happens to be hiding in each picture), and it makes the experience much more interactive.
So, that's the background on how I came up with this list. I chose our top 5 Halloween board books, based mostly on what my 20 month old is enjoying.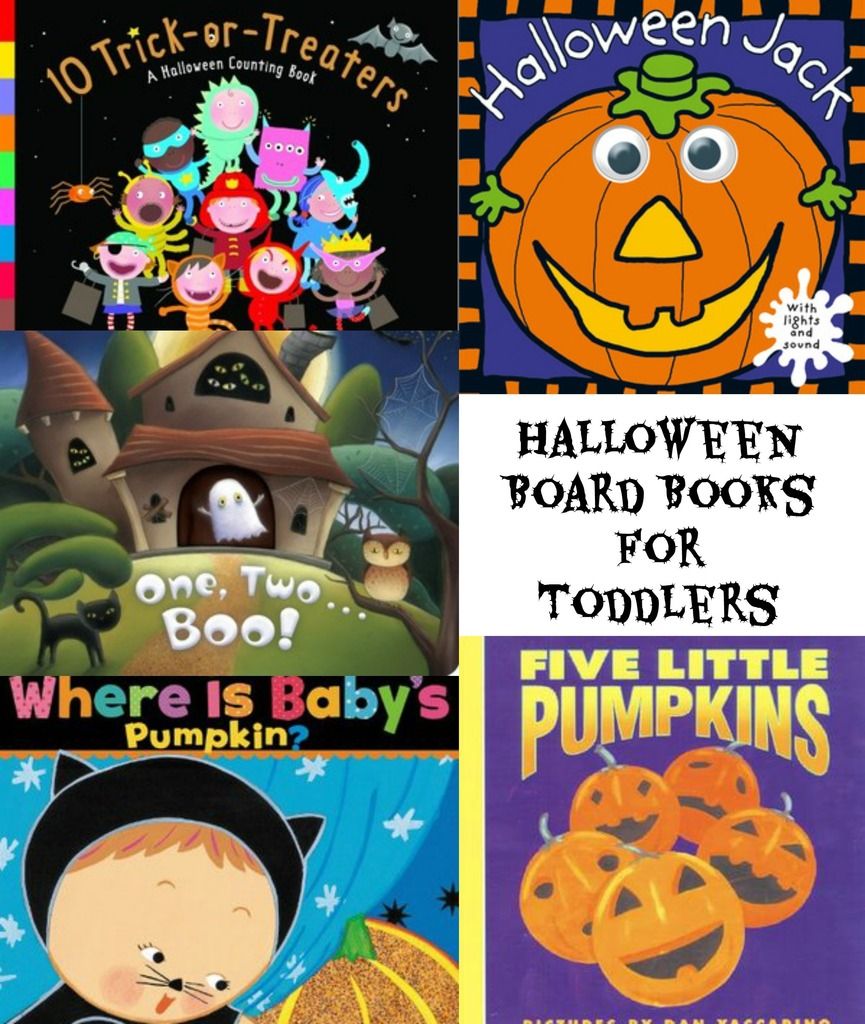 10 Trick-or-Treaters
by Janet Schulman
- Counting books that rhyme are a huge hit right now, and I lost track of how many times we read this one. There's also little things to ask your toddler to find and point out to you.
Halloween Jack
by Roger Priddy
- This was actually one of the first books that Sully really loved. I picked it up for a dollar at a second hand kids sale, and while I meant to stash it away, he was so enamoured by the laughing dracula on the last page that I didn't have the heart to pack it up. We easily still read this one daily.
One, Two…Boo!
by Kristen L. Depken
- In this book, you'll lift flaps as your count your way through the haunted house. A great introduction into all the spooky things that make up Halloween.
Where is Baby's Pumpkin?
by Karen Katz
- I'm sure everyone is familiar with this author's books, especially,
Where is Baby's Belly Button?
, and this book follows the same style, with flaps on every pages as the baby looks for her pumpkin and finds surprises along the way.
Five Little Pumpkins
illustrated by Dan Yaccarino
- a Halloween classic! I remember loving this one from my childhood so I was thrilled when it quickly became a favourite of Sully's too. It's impossible not to chant this rhyme about the rolling pumpkins.
What are some of your favourite Halloween books for children?