Even before we found out that Baby Fraser is a boy, I knew I wanted to stick to a more gender neutral nursery. I love grey and white nurseries with pops of colour like yellow or navy, regardless if the room is for a boy or a girl. I am not a theme-loving girl (unless books are a theme), and I wanted to create not only a nursery, but a room that our baby can grow up and into. So I stuck to my guns, and looked for inspiration via pinterest and blogs when it came to creating our baby's nursery.
Here is my starting point: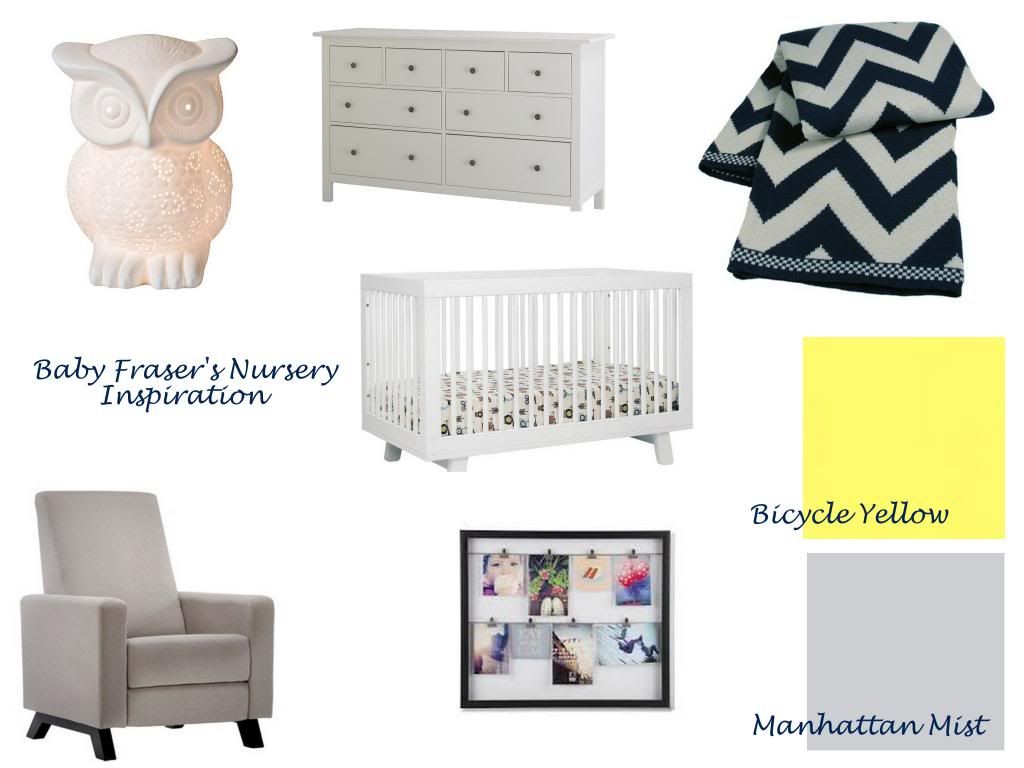 I love grey because I feel it works well with so many colours and doesn't limit you as much in terms of decorating. So for the walls, I chose a Manhattan Mist by Behr. The crib and dresser will be white and the Bicycle Yellow, also by Behr, is for a bookshelf I am repainting for Baby Fraser's library. I have a few other projects in the works that will also be yellow.
I am happy to report that painting
finally
started this past week! The trim and doors in our home are all builder beige, so it was a no-brainer that the trim and doors in the nursery would need to be painted white. The prep work for painting trim in a room with carpet is the worst part. Luckily, Jim took on that project all on his own :)
Here's a before picture of where we started with this nursery. This is pretty much what this room has looked like since we moved in. I lovingly refer to it as the "shit room", because it's where all our shit gets dumped. Please tell me we're not the only ones who have a room like this. Out of sight, out of mind, right?
It probably took us a good week, spending our evenings sorting through the piles of junk, deciding what to keep, what could be donated and what to throw away. It was worth it though because once we were done, it felt so good to have that room cleared out.
And here's the room all ready to be painted:
Already looks better!