We've all had those moments: those times where you want to burst into tears over some mishap, no matter how trivial or serious, and someone, usually your mom, reminds you that one day you will laugh all about it. Good thing mom's are
sometimes
always right. Being a new mom, there have been a lot of moments where I've wanted to cry (or have cried) and I fully expect this to never end. Being a parent is hard and every day presents you with new challenges and learning curves.
Last Friday, I took Sully to his almost 2 month check-up with his paediatrician. It had been exactly one month since his last visit with her, and the memory of that first outing came flooding back when I arrived at the hospital.
March 10, 2014: It was my first time out of the house with Sully since coming home from the hospital, and my in-laws drove us to his appointment. My father-in-law pulled up in the loading zone in front of the hospital to drop us off before he went to park the car.
When I went around to take Sully out of the car, I realized I didn't know how to remove the car seat from its base. I tried a few times before frantically exclaiming "I can't get the car seat out!" (It would be fair to say that I do panic easily though.)
I could feel the heat rising in my face as Jim's dad got out of the car to see if he could help. I climbed into the backseat from the other end of the car to help but all we managed to do was curse and rock the crap out of the car seat and the base.
I called Jim, almost in tears, asking him how to remove the car seat from its base. Of course, he was no help, telling me to push the "red button" (note: there is NO red button!).
By this point, Jim's dad had removed the entire car seat with base still attached, onto the sidewalk beside the car. I was mortified, worried that every passerby was staring and judging this mom that didn't know how to work her own car seat.
When we still couldn't get the base unattached, and I was panicking because we were now late for Sully's appointment, my father-in-law suggested that I just carry Sully up to the doctor's office. "You can't CARRY your newborn into his appointment!", I shrieked.
I didn't know what else to do so I called Jim again, apologized for hanging up on him in frustration earlier, and asked him as calmly as I could how to get the base off. This time he had the right answer and so there on the sidewalk, I finally got the car seat off the base, rushed into the hospital, leaving my father-in-law to reinstall the car seat base all while fighting back those damn tears. And Sully - bless his dear self - slept through the entire ordeal.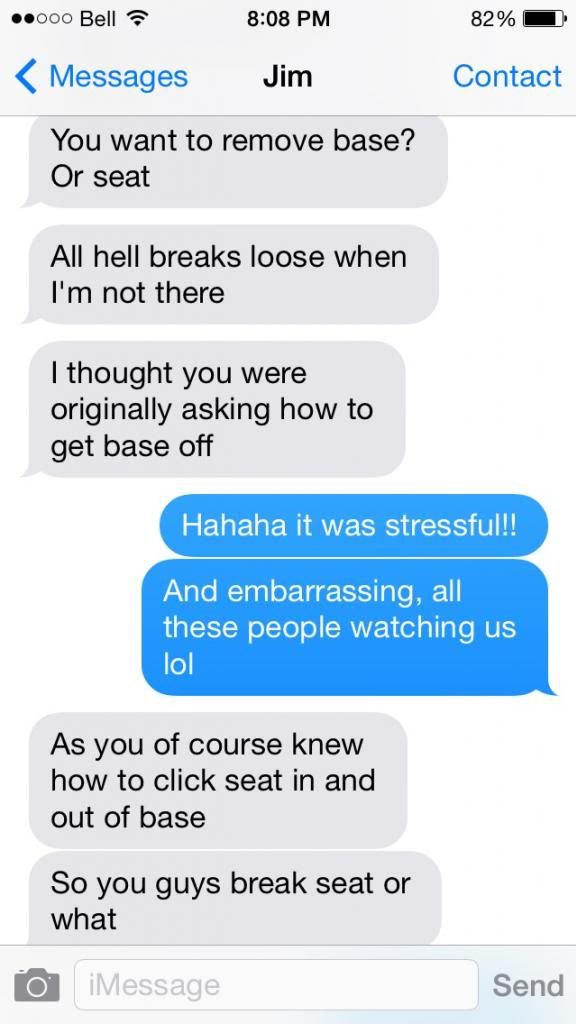 It never occurred to me to practice removing the car seat from it's base before going somewhere for the first time. Lesson learned!
And yes, now I laugh about this incident all the time.
{driving home from the doctors}