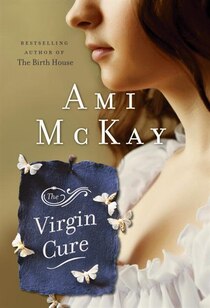 I'm really excited that the first book review I am going to do is on Ami McKay's new book, The Virgin Cure. For one, I loved her first book, The Birth House, and two, I like to read Canadian authors whenever I can. A part of me was hesitant to read the book right away as I've been let down in the past by authors whose subsequent books weren't as good as their first ones, but I'm happy to report, this wasn't the case at all with The Virgin Cure.
And another reason this book review feels so exciting is, one day while I was at work at the bookstore, Ami McKay unexpectedly stopped by the store to sign all the copies of her books we had in stock! Ami was on her way back to the airport after being in town for promoting The Virgin Cure. After a quick search told her publicist that our book store had the most copies of both her books in stock, they made a quick pit stop to sign books. My only disappointment in the whole situation was that I hadn't known ahead of time and was therefore without my hardcover copy of The Birth House for Ami to sign. So sad. It was so exciting to meet Ami and she was super nice and signed personal copies of her book for myself and a few other bookstore employees. You can check out Ami's website here:
http://www.amimckay.com/
Goodreads Synopsis:
"I am Moth, a girl from the lowest part of Chrystie Street, born to a slum-house mystic and the man who broke her heart." So begins The Virgin Cure, a novel set in the tenements of lower Manhattan in the year 1871. As a young child, Moth's father smiled, tipped his hat and walked away from her forever. The summer she turned twelve, her mother sold her as a servant to a wealthy woman, with no intention of ever seeing her again.

These betrayals lead Moth to the wild, murky world of the Bowery, filled with house-thieves, pickpockets, beggars, sideshow freaks and prostitutes, where eventually she meets Miss Everett, the owner of a brothel simply known as "The Infant School." Miss Everett caters to gentlemen who pay dearly for companions who are "willing and clean," and the most desirable of them all are young virgins like Moth.

Through the friendship of Dr. Sadie, a female physician, Moth learns to question and observe the world around her, where her new friends are falling prey to the myth of the "virgin cure"--that deflowering a "fresh maid" can heal the incurable and tainted. She knows the law will not protect her, that polite society ignores her, and still she dreams of answering to no one but herself. There's a high price for such independence, though, and no one knows that better than a girl from Chrystie Street.
My Thoughts:
I really enjoyed stepping back into time, to a place that none of us could ever know, but only imagine. When I think of New York, I think of money, glamour, celebrities, fast-paced business people walking with a purpose, yellow cabs, central park, the city that never sleeps. Instead, Ami McKay takes us to a time when New York was a dark and often dangerous place to live, especially if you were poor and of poor social standing. A city full of brothels, thieves, beggars and men willing to pay top dollar for the "virgin cure". I know an author has done a job well done when I feel like I've been to such a world as they are describing.
I was immediately drawn into the story of Moth, the young daughter of a gypsy fortune teller. How can you not feel for someone when they tell you in the first paragraph of the first chapter that they were twelve the summer their own mother sold them? Her own mother. From that moment, I needed to know what was going to happen to Moth and how she was going to survive on the filthy streets of Manhattan.
As Moth finds herself living in a brothel and being trained to be a whore, you can't help but be inspired by Moth's bravery and strength, while at the same time, feeling heartbroken for her and the real girls that lived during these times in the late 19th century. How far women have come since the 1870s. While Ms. McKay was able to transport her readers to this era, it's difficult to imagine actually living and surviving in a world full of such hardship and sorrow.
This book, with the extra tid-bits of history, period advertisements and fashion descriptions from Harper's Bazaar, make it feel like you are reading a scrapbook (I love scrapbooks!) or personal journal of sorts. While some may find this distracting, I felt it added that much more dimension to the story. It also made it hard for me to breathe during the descriptions of the corsets!
I loved this book. I give it 5/5 stars. Now, go on, read it, just do it! Then come back and let me know what you thought of it.
P.S. I'm going to "cheat" a little bit here and count this as my first book out of 50 for the 50 Book Pledge as I started it in 2011, but finished it in 2012 :)