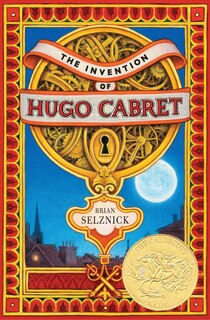 The Invention of Hugo Cabret
, by
Brian Selznick
has been in my TBR (to be read) pile for a few months now. Which is silly, because although it is a large book spanning more than 500 pages, it only takes a few hours to read. This book first called to me from the shelves because it's beautiful to look at. Remove the dust jacket, and you will be further amazed at its beauty, the smooth, black cover with white detail.
(Side note: I can't help but think how lovely this book would look on this guy's 'black, white and grey books only' book shelf:
Mr. Waterbury
)
Inside, you will find an amazing story about a 12-year old orphan boy, Hugo, who lives in the walls of a Parisian train station. (Why are all good stories about orphan children?) Hugo, having learnt everything there is to know about clocks from his now absent uncle, secretly maintains all 27 of the station's clocks. Having nowhere else to go, Hugo has another reason for living this life of secrecy: his deceased father has left behind a broken
automaton
and Hugo is determined to fix it, positive that it holds a secret message from his father.
Throw in a secret notebook, a cranky old toy store salesman (with a secret of his own!) and a young girl named Isabelle, and you've got yourself a mystery you won't be able to put down.
The first 50 or so pages of the book is entirely pictures; beautiful black and white pencil sketches and Brian Selznick literally paints us a story with his art work which is used throughout the book. While
Hugo
feels like part picture-book, part graphic novel, part still film, this book is one of a kind. While there are only around 2700 words in this book, Mr. Selznick proves a picture is worth a thousand words.
This book was worth reading for this one quote alone:
"I like to imagine that the world is one big machine. You know, machines never have any extra parts. They have the exact number and type of parts they need. So I figure if the entire world is a big machine, I have to be here for a reason. And that means you have to be here for some reason, too." (page 378)
I ate this book up, and it's one I dream about reading to my own children one day. I'm proud to give it a home on my bookshelf.
(Now I just have to
force
convince the husband to go see the
movie
!)