It's pretty much a given, that if you invite me to your house and ask me to bring something to eat, this is the dish I'm going to bring.
Life is busy, and while I love trying new dishes, I find it really stressful when you have to come up with something to bring to a potluck, or a party. What if no likes what you bring? (My worst fear).
For a long time, I always wished I had my own "signature" potluck/party-going dish. Something I could be counted on to bring and something people looked forward to eating. And something that didn't take a ton of time to prepare, and calls for minimal ingredients. Friends, I'm happy to say, I finally have that dish!
I first ate a version of this at one of my book club meetings back when I was still living in Edmonton, and I absolutely loved it. I knew I needed to try and recreate it at home. It takes your regular old hummus with veggies and kicks it up a notch. It looks appealing, it's healthy and you it will also satisfy any of your vegetarian friends out there. Or you can make it vegan by skipping the feta altogether (which I have on numerous occasions when I don't have any on hand, and it still tastes just as delicious).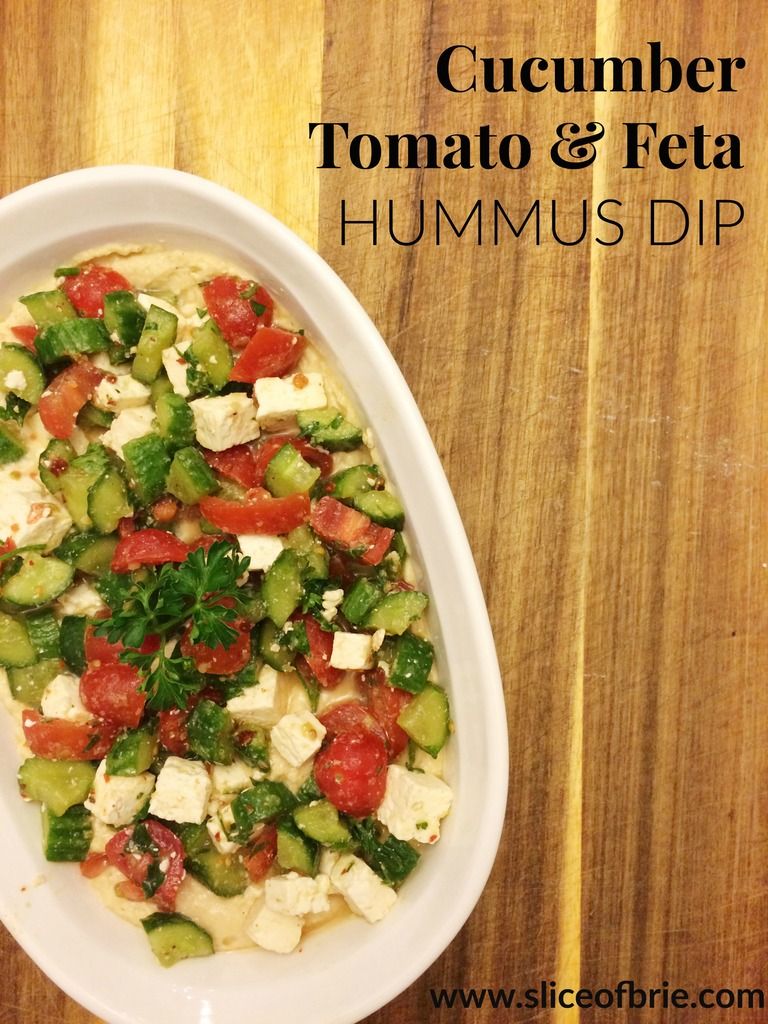 Cucumber Tomato & Feta Hummus Dip
1 pint of grape tomatoes, halved
1 small cucumber or 4-5 mini cucumbers, diced
1/2 cup cubed feta
1 tbsp chopped parsley (optional)
Hummus (approx half a container)
1 tbsp olive oil
1-2 tsp crushed red chili pepper
salt & pepper to taste
Add the tomatoes, cucumber (I prefer to leave the skin on as it adds a nice crunch), feta and parsley to a bowl.
Drizzle with the olive oil.
Toss with crushed red chili pepper, salt and pepper. I usually taste test here and add more chili, salt, or pepper as I feel is necessary.
Let sit for at least 30 minutes, but if you're in a rush, that's okay too. Sometimes I even make this part the night before to really 'marinate' the flavours. Either way, it will stay taste great.
Spread a thin layer of hummus on the bottom of the dish you will serve the dip in. I typically use about half of a regular sized container of hummus, but you can use more if you wish. You will want to use a dish that has a lip.
Using a slotted spoon to drain the excess liquid, top the hummus with the cucumber, tomato and feta mixture. Depending on the size of dish you use, you may have some mix left over.
Serve with your choice of crackers or tortilla chips!
This keeps well in the fridge for 3-4 days.


What's your go-to potluck or party dish?