For today's
Thinking Out Loud
post, I'm talking about my love for all things American:
1. Don't get me wrong, I love my country, but whenever I'm down in the states, it's hard not to get a bit jealous of all the things they have that I want frequent access to. And don't even try and tell me that the novelty would wear off, because buying groceries at Trader Joe's couldn't possibly ever get old. Or choosing between 15 flavours of peanut butter. Or buying beer and wine for the cost of a coffee. No, those things will never, ever get old for me, my friends.
2. Speaking of stores in America that we don't have…walking through Target yesterday was so bittersweet. On the one hand, I was like a kid in a candy store (or a mom in Target, haha), filling up my cart as I explored every aisle. It was the best, and I wished I had unlimited luggage space and unlimited funds to buy ALL THE THINGS. But I couldn't help feeling a mix of anger and sadness at the fact that Target couldn't make it in Canada. What is wrong with Canadians that we couldn't support this store!? I know the Canadian version wasn't exactly the same as the American ones, but it was still a great store. It definitely filled that gap between Winners and high-end stores. RIP Canadian Target.
3. Have you guys ever shopped at Publix grocery store? Second to Trader Joe's, it is my favourite grocery store down here. I can't even explain why except it seems like everything is on sale whenever we go!
4. And you know what was on sale when we went the other day? These amazing Chobani flip yogurt snacks. (A dollar a piece!). I ate two different flavours before I took this picture, and I will definitely be going back for more. My question is though, how will I be able to go back to eating regular old yogurt after this?
5. In hindsight, it's probably a good thing, for both my waistline and my wallet, that I don't have regular access to American grocery stores. Because delicious things like this come home with me. Only my favourite cookie ever, which I only get to enjoy when I fly with Westjet. And just when you thought chewing was too hard, there's a "peanut butter" version.
6. In an effort to counteract all the extra calories I will be consuming during our time down here, I joined my mother-in-law and father-in-law for aerobics this morning. I'm usually a bit of sloth on vacation, preferring the pool lounger to exercise, but I'm trying to make the most of the extra sets of hands for toddler wrangling I have here. There's even a full gym here which I'm working up the motivation to go and use. I didn't waste luggage space with workout clothes for nothing!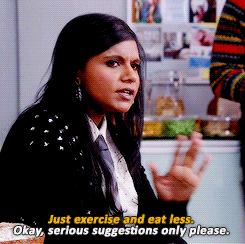 7. The retired folk in Florida have it made, and whenever I'm here, I'm reminded of how much of a retired person I am at heart. Jim jokes that I already fit right in…besides the pool and gym, the community here is full of all my favourite activities - shuffle board, mini-golf, ping-pong, billiards, BINGO night, movie night, there's a library, an endless supply of jig-saw puzzles (my favourite!), plus a full schedule of daily activities that residents can join in on at any time. When can I move in?!
Confession: I basically stop eating, drinking or sleeping when I'm working on a jig-saw puzzle, which is why I only do them while on vacation now. I have issues, I know.
P.S. Happy Thanksgiving to my American friends! I'm happy to report we will be celebrating with turkey dinner today!
Linking up (as always!) with Amanda from Running With Spoons!
Do you work out when on vacation?
Canadians: what's your favourite store in American that we don't have in Canada?;
Americans: favourite grocery store?
Favourite "retired person" activity?