Any regular length weekend immediately after Jim's had a long weekend always feels way too short. What can I say, we like having him home with us! We laid low this weekend - Sully's been extra fussy the past few days, and I think we only have teething to blame for it - and we had a bunch of things we wanted to accomplish around the house.
On Friday, I took Sully to drop-in story time at the library for the first time. I wasn't sure if it would be a hit or miss since his attention span for sitting for 30 minutes isn't really great yet, but surprisingly he loved it! He was so into it, pointing and exclaiming at everything the librarian was reading. He also quietly entertained himself for a bit during one story by stacking a huge pile of those cushions he's sitting on in the picture below, on my lap, ha-ha! This kid LOVES to move things from one pile to another.
Friday evening, we picked Jim up from the train station and ran to a few electronic stores. Our home had been pre-wired in the family room/kitchen area for speakers and this past week, Jim installed the speakers into the ceiling. But of course, we didn't have anything to hook up to the speakers to play actual music through, so we needed to buy something for this. Doesn't sound so complicated, right? Wrong. We still love to listen to CDs (along with my iPod), but CD players are almost non-existent now! Yup, we felt old asking young guys working at the electronics store for a CD-capable playing system (that wasn't a big ugly boom box). (Come on! We can't be the only people who still listen to CDs?) Luckily, not all hope was lost, and we scored a really good quality, (and small!), Yamaha system that plays CDs, as well as your iPod.
On Saturday, I had a much needed hair appointment! It had been over three months since I last had my hair done, and while I originally planned to continue to travel back to Edmonton to keep seeing my hair stylist there, once it came down to it, a 6 hour round trip just to get my hair done just wasn't going to happen. Luckily, my blogging friend,
Ashley
, also happens to be this amazing stylist and took me on as a client. She spent a lot of time discussing with me what I wanted and I couldn't be happier with the results! It's completely different than what I had and exactly what I wanted. (If you don't know what I looked like before, or can't remember, you can see a recent picture in
this post
). Hard to believe it's been just over a year since I
cut off all my hair
! Also, these photos don't really do the colour justice, but it gives you a pretty good idea.
The rest of the day was spent playing with Sully, going for walks, where we tried to teach him how to blow dandelions (that didn't turn out so well!), and playing at the park.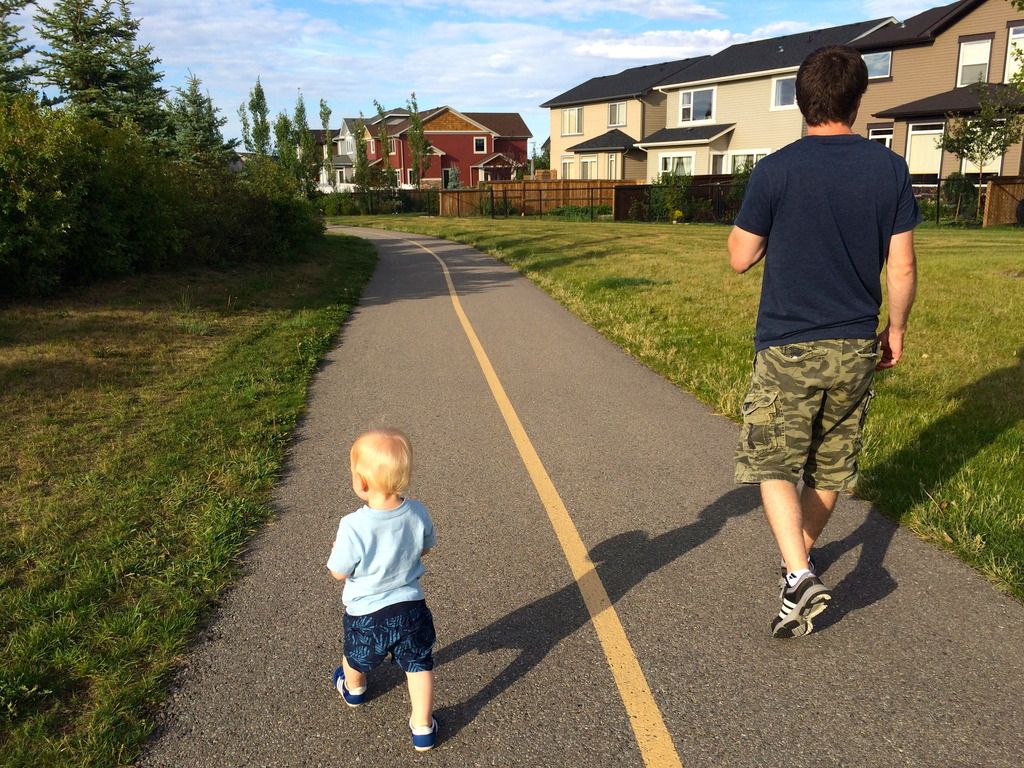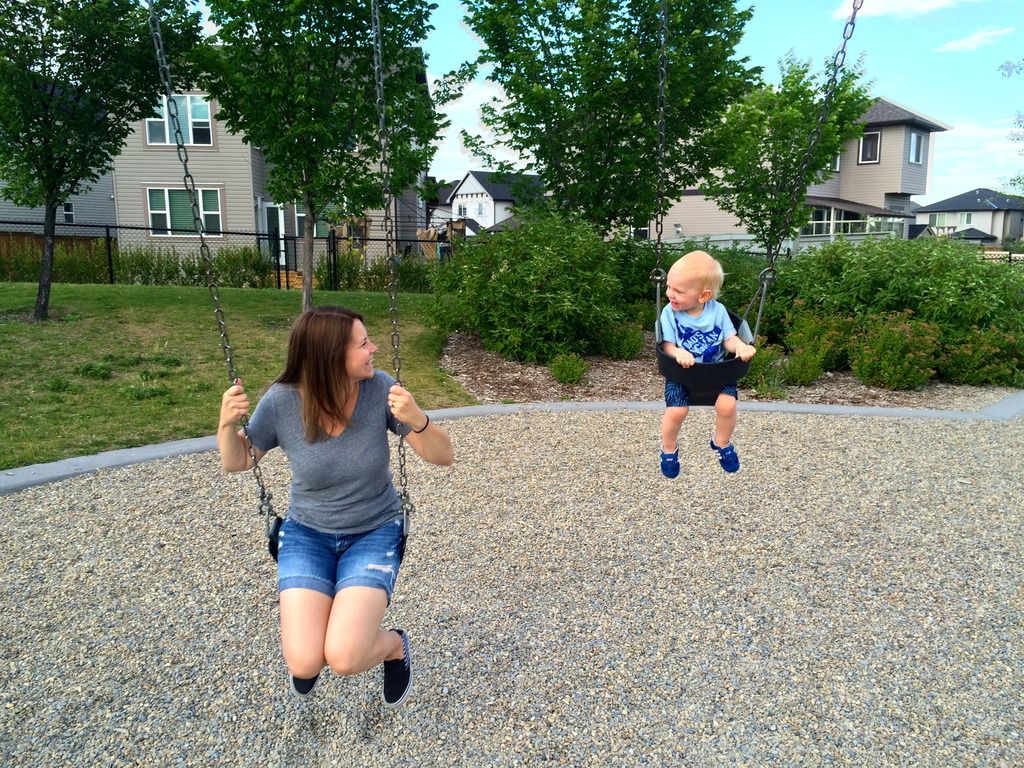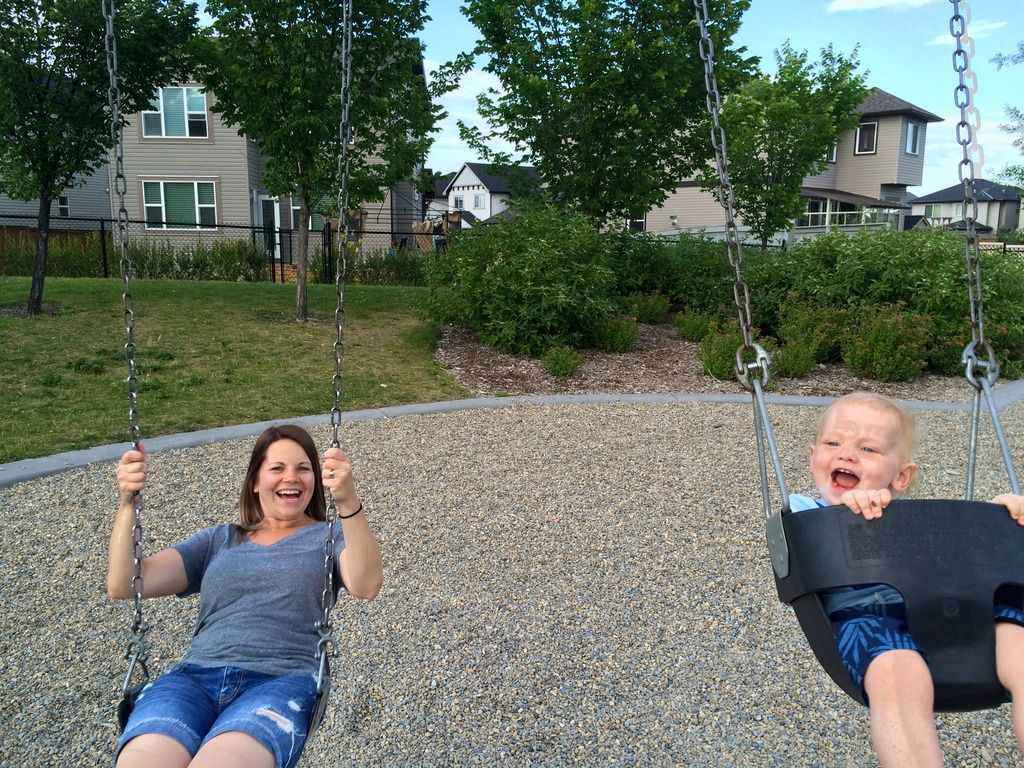 Sunday, Sully's teeth were bothering him again and he was a bit of a meltdown mess. After he woke up from his too-short afternoon nap, we packed up the bikes for a short bike ride around the Glenmore Reservoir. We didn't last long before the heat became too much so we turned around and went to the splash park there. Of course, as luck would have it, the splash park wasn't spraying any water (turns out the park staff chose that time to clean out the pipe system), so after a quick swing, we headed back home.
We let Sully eat supper outside on the deck, in his diaper, where he practiced eating food with a real fork (his favourite!). And yes, he would take the food, place it down and then stab it with the fork. Silly kid. After that, it was bath then bed, Jim headed out for a motorcycle ride while I got to enjoy the quiet house to myself!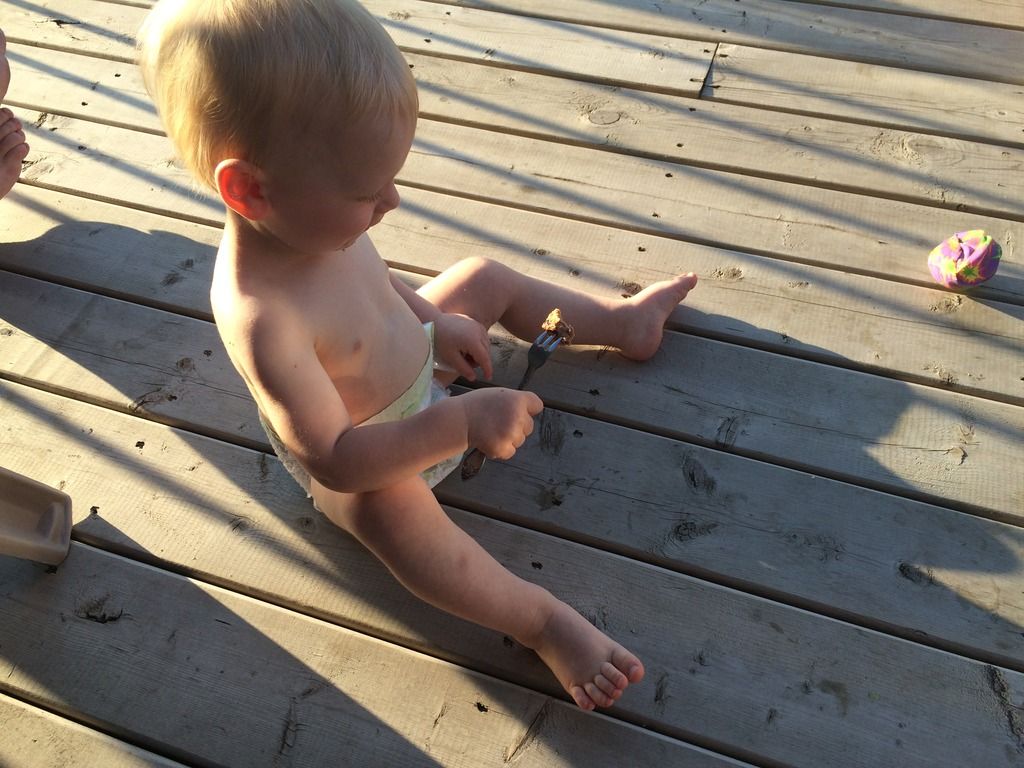 Hope you all had a great weekend! How are you surviving the heat?!